Thrust Carbon Launches Groundbreaking Application to Help Organizers Create More Sustainable Events
April 14, 2023
Thrust Carbon, a leading sustainability intelligence platform for the travel industry, recently unveiled Thrust Events, a powerful SaaS application designed to bring sustainability reporting with ease to large meeting and event (M&E) programs. The company's organizations at launch represent more than 20,000 meetings per year.
"We are thrilled to launch Thrust Events, a groundbreaking technology platform that empowers event management agencies to reduce the carbon footprint of their events in an affordable and efficient manner," said Kit Aspen, co-founder of Thrust Carbon. "Unlike traditional methods that rely on spreadsheets, Thrust Events sets a new standard for sustainability in the meetings and events sector by offering a comprehensive and integrated approach that maximizes the impact of sustainability efforts."

With 69% of event organizers saying sustainability will be an area of focus, according to an Eventbrite Consumer Insights Report, event management agencies are under increasing pressure to reduce the environmental impact of their events. Thrust Events enables agencies to accurately measure the emissions generated by their events and take steps to reduce their carbon footprint, while also giving end users their travel and events footprint in one place.
Using Thrust Events, event managers can quickly and easily input venue, attendees and transportation data to generate a white-label client-friendly emissions report. The tool relies on a blend of methodologies that Thrust Carbon's research team has gathered from multiple government sources worldwide as well as major global event sponsors such as the International Olympic Committee. They address everything from planning and preparation to execution and teardown.

Thrust Events is the first tool of its kind to move beyond reporting, providing actionable insights and recommendations, such as optimizing transportation, reducing food waste and choosing more sustainable venues, to help event managers create more sustainable events.

The Thrust Events application was specifically designed for M&E programs with 200 to 50,000-plus events. Supporting these complex events through automated data feeds, single sign on, precise permissions, no user limit, and bulk data handling tooling. Thrust Events has spent six months in testing with two of the top travel and events management companies, including ATPI.
According to Helen Van Berkel, ATPI's global head of events, by partnering with Thrust Carbon, the company is able to offer its customers sustainable travel and events options, which not only enhance their overall experience but also align with ATPI's commitment to corporate social responsibility.
"At ATPI, we are constantly striving to provide our customers with the best possible travel and events solutions while enabling them also to reduce their impact on the environment," Van Berkel said. "Thrust Events is a valuable addition to our service offering, as it allows us to deliver seamless event experiences while minimizing the carbon footprint."
Thrust Events is available worldwide, although currently English is the primary supported language, according to Aspen.
"The emissions calculations we use are localized whenever possible too, so if an organizer in North America books a meeting room in New York, it will have a New York-specific calculation rather than any other locale," Aspen said.

To learn more about how Thrust Events can help event organizers measure their carbon footprint and create more sustainable events, click here.
Don't miss any event-related news: Sign up for our weekly e-newsletter HERE, listen to our latest podcast HERE and engage with us on Twitter, Facebook and LinkedIn!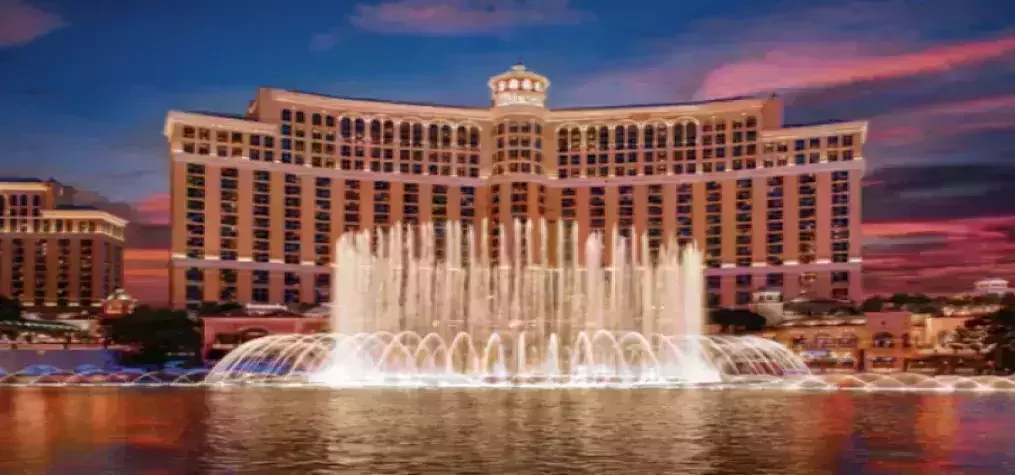 HERE, hosting responsible meetings and caring for our communities are top priorities. Through its 'Focused on What Matters: Embracing Humanity and Protecting the Planet' philosophy, MGM Resorts commits to creating a more sustainable future, while striving to make an impact in the lives of employees, guests, and the communities in which it operates. Water Stewardship Efforts MGM Resorts understands the importance of using water efficiently, especially in the desert destination of Las Vegas. Conserving water has always been part of the mission, but MGM Resorts has expanded its ambition into water stewardship. In 2022, MGM Resorts President and CEO Bill Hornbuckle signed the CEO Water Mandate—a UN Global Compact initiative mobilizing business leaders to advance water stewardship. MGM Resorts International was the first gaming company to take this important step. MGM Resorts replaced 200,000 square feet of real grass with drought-tolerant landscaping in Las Vegas. MGM Resorts pledges to reduce water withdrawal intensity by 33% by 2025 and by 35% by 2030. From 2007-2021, use of more than 5.6 billion gallons of water was avoided because of conservation efforts. Caring for One Another MGM Resorts' Food Donations Program collects and preserves unserved food from conventions held at MGM Resorts properties, then safely donates to food insecure people in the community. Since the program's launch in 2016, more than 3.7 million meals toward a 2025 goal of 5 million meals have been donated into the community. Donations include: Unserved perishable prepared foods from events Perishable unprepared food from MGM Resorts' kitchens Nonperishable food items from minibars and warehouses The collaboration with Southern Nevada's primary food bank, Three Square, has developed the infrastructure needed to safely collect, transport, and store food from MGM Resorts properties in Las Vegas, reducing food waste while serving the community. Fostering Diversity and Inclusion To MGM Resorts, a diverse and talented workforce is essential to success. By cultivating innovative strategies that consider multiple perspectives and viewpoints, the company creates an inclusive workplace culture that benefits its employees and community. MGM Resorts takes pride in being a welcoming home for veterans, individuals with disabilities, people from diverse backgrounds, LGBTQ+ community members, and more. This commitment to inclusion is reflected in the company's recruitment and hiring practices and its social responsibility initiatives. From the workplace to the community, MGM Resorts' commitment to diversity, equity and inclusion remains unwavering, and its efforts continue to create a more equitable and sustainable world for all. MGM Resorts understands its responsibility to contribute to the social and economic progress of the communities in which it operates. HERE, we embrace humanity.