Subscribe
TSNN's Suite of E-newsletters
Since June 2010, TSNN has launched a suite of e-newsletters that serve different facets of the trade show industry. Each one reaches thousands of industry professionals, most of whom are C-level show management executives around the world.
Please subscribe here.
The Industry This Week
A weekly e-newsletter that covers the latest news in the worldwide trade show industry. Show launches, mergers and acquisitions, the health of the overall industry and thought-leader blogs are regular features in this acclaimed e-newsletter. Each week, more than 10,000 subscribers receive TITW and it is read by many of the C-level decision-makers in the industry. There are more eyes looking at TITW than any other trade show publications. View example HERE.
Breaking News
Distributed at least three times each month, Breaking News has all the hard-hitting, latest news that TSNN is known for being the first in the publication market to break. More than 12,000 subscribers read this hugely popular e-newsletter several times each month and it is often the talk of the industry. View example HERE.
Association Show News
Association shows represent a significant piece of the trade show industry and this e-newsletter focuses not only on shows in that sector but also the industry associations for the trade show and meeting industry. Twice a month, more than 8,000 subscribers receive Association Show News and it is read by many of the C-level decision-makers in the industry. Association Show News serves a niche sector overlooked by other trade show publications. View example HERE.
ExpoFiles e-newsletter
Geared to all event industry professionals. It releases monthly to a diverse subscription base of Organizers, Exhibitors, Suppliers & Promotional Product Professionals. The e-newsletter is sent to 25,000 subscribers and educates Trade Show Pros with helpful Tips, Trends, Tactics & Best Practices with the intent of keeping up them up to speed on all aspects of our industry by offering valuable information they need to do their job with excellence. View example HERE.
People News
Our People e-newsletter represents the most important aspect of our industry: human talent! Released every other month to an audience of 10,000 subscribers, it covers promotions, new hires, big career moves, retirements, employment opportunities and the people side of mergers, acquisitions and more. This personal publication also shines a light on employees and their event companies that are #GivingBack to make a positive difference in their host and home communities. View example HERE.
Tech News
A cutting edge e-newsletter summarizing all the latest event technology news. This timely publication will help you stay on top of all the tools and technology needed to do your job with excellence. Released every other month to an audience of over 22,000 subscribers, it will keep you up to date on the ever changing technology trends and educate you with tips in the trade show technology sector. View example HERE.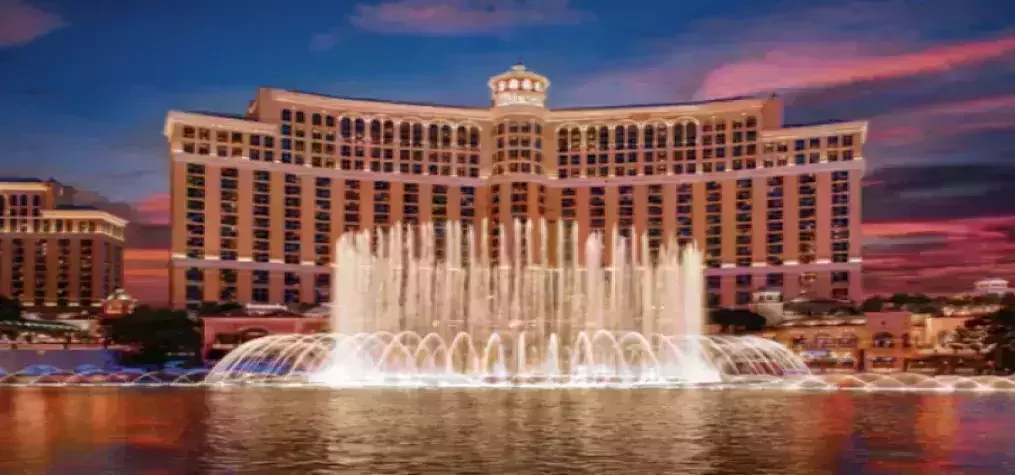 HERE, hosting responsible meetings and caring for our communities are top priorities. Through its 'Focused on What Matters: Embracing Humanity and Protecting the Planet' philosophy, MGM Resorts commits to creating a more sustainable future, while striving to make an impact in the lives of employees, guests, and the communities in which it operates. Water Stewardship Efforts MGM Resorts understands the importance of using water efficiently, especially in the desert destination of Las Vegas. Conserving water has always been part of the mission, but MGM Resorts has expanded its ambition into water stewardship. In 2022, MGM Resorts President and CEO Bill Hornbuckle signed the CEO Water Mandate—a UN Global Compact initiative mobilizing business leaders to advance water stewardship. MGM Resorts International was the first gaming company to take this important step. MGM Resorts replaced 200,000 square feet of real grass with drought-tolerant landscaping in Las Vegas. MGM Resorts pledges to reduce water withdrawal intensity by 33% by 2025 and by 35% by 2030. From 2007-2021, use of more than 5.6 billion gallons of water was avoided because of conservation efforts. Caring for One Another MGM Resorts' Food Donations Program collects and preserves unserved food from conventions held at MGM Resorts properties, then safely donates to food insecure people in the community. Since the program's launch in 2016, more than 3.7 million meals toward a 2025 goal of 5 million meals have been donated into the community. Donations include: Unserved perishable prepared foods from events Perishable unprepared food from MGM Resorts' kitchens Nonperishable food items from minibars and warehouses The collaboration with Southern Nevada's primary food bank, Three Square, has developed the infrastructure needed to safely collect, transport, and store food from MGM Resorts properties in Las Vegas, reducing food waste while serving the community. Fostering Diversity and Inclusion To MGM Resorts, a diverse and talented workforce is essential to success. By cultivating innovative strategies that consider multiple perspectives and viewpoints, the company creates an inclusive workplace culture that benefits its employees and community. MGM Resorts takes pride in being a welcoming home for veterans, individuals with disabilities, people from diverse backgrounds, LGBTQ+ community members, and more. This commitment to inclusion is reflected in the company's recruitment and hiring practices and its social responsibility initiatives. From the workplace to the community, MGM Resorts' commitment to diversity, equity and inclusion remains unwavering, and its efforts continue to create a more equitable and sustainable world for all. MGM Resorts understands its responsibility to contribute to the social and economic progress of the communities in which it operates. HERE, we embrace humanity.