People News: Clarion Events, Visit Spokane and More Tap New Leaders, Grow Teams
April 24, 2023
Across the U.S., trade show-related organizations are appointing new leadership and expanding their teams. Take a look!
Clarion Events
Leading event organizer Clarion Events has promoted Sophia Fasano to group marketing director of its Energy Portfolio, which covers all markets related to transmission and distribution, interconnection, renewable energy and power generation.
In her new role, Fasano is responsible for marketing strategy, customer and data insights and marketing team leadership and development for event brands, including DISTRIBUTECH International, POWERGEN International, HYDROVISION International and GridTECH Connect Forum. She also supports media brands, including Power Engineering, Hydro Review, POWERGRID International and Renewable Energy World.
A 10-year event industry veteran who has worked for Clarion for five years, Fasano most recently served as marketing director and before that as marketing manager. Prior to her career at Clarion, she worked at Access Intelligence for more than four years, working her way up in various marketing roles.
Visit Spokane
Visit Spokane has tapped Rose Noble as its new president and CEO, effective May 15. She is currently finishing out a five-year tenure as president and CEO of Galena Country Tourism in Galena, Ill., where she has worked for more than seven years, previously as interim director and prior to that as director of marketing.
Bringing a wealth of marketing strategy and event planning experience to her new role with Visit Spokane, Noble was an active Illinois Council of Convention and Visitors Bureau member and is a current board member with Destinations International. She is working on her accreditation as a Certified Destination Management Executive (CDME).
Pennsylvania Convention Center
Venue management and event strategy leader ASM Global has appointed hospitality industry and labor operations veteran Tony Hodgins as general manager of the Pennsylvania Convention Center (PCC), part of the ASM Global portfolio of premier convention and trade show venues.
As general manager of the Philadelphia facility, Hodgins will be responsible for the successful operations of the PCC, including programs such as the recently launched Hospitality Industry Advancement Trust (HIAT) Fund, an industry-leading partnership between the venue's management and trade show labor partners.
Hodgins was previously a 30-year executive of Freeman, where he worked in the industry's largest network of experts in the field and led its Northeast Region team to winning the Freeman Customer Service Award for the first time in its history.
Atlanta Convention & Visitors Bureau
Charlene Lopez, veteran hospitality sales leader and Atlanta Convention & Visitors Bureau (ACVB) vice president of sales, will be promoted to executive vice president and chief sales officer beginning Jan. 1, 2024. She will succeed Mark Vaughan, who announced his plans to retire at the end of this year. Lopez will be the highest-ranking woman in the ACVB's history, serving as the first female C-level executive since the organization was established 110 years ago.
In her new elevated role, Lopez will be responsible for efforts to increase visitation to Atlanta through the development and implementation of all ACVB sales programs. She will oversee trade show sales, in-house sales, international tourism sales and convention services, establishing strategy for each and ensuring their objectives align with the corporate strategy. She will also maintain partnerships with hotels and convention facilities and serve as the sales liaison to ACVB's executive committee and board of directors.
Lopez joined ACVB in June 2012 as sales manager, national accounts, focusing on association and corporate business, was promoted to director of citywide sales in Sept. 2019 and became vice president of sales in July 2021.
Her career also includes roles with Omni Hotel at CNN Center as director of sales, associate director of sales at Hyatt Regency Atlanta and associate director of sales, sales manager and business travel manager at Hyatt Regency Hill Country Resort and Spa.
Pinnacle Live
Pinnacle Live, an event experience and technology company launched in 2021 for the hospitality and event industry, has hired two industry veterans to launch its new Event Production division: Dan Sherman as executive vice president of business development and Dave Arendes as senior vice president of sales operations.
An employee of Freeman for six years, Sherman most recently served as the company's vice president, strategic business development. Bringing 21 years of industry experience to his new role, he has supported hundreds of North America's leading event organizers, including Major League Baseball, U.S. Department of State, The White House, Society for Human Resource Management, NACS, Specialty Food Association, American Chemical Society and U.S. Green Building Council.
In 2008, Sherman founded HIP NETWORK, a B2B digital media company for the hospitality industry, launched the Market in a Minute newsletter in 2017 and the Traveling podcast in 2020.
Arendes worked for Freeman for 25 years and most recently served as senior vice president, client solutions, for the Northeast region. He began his career at Freeman in 1997 and worked in sales and operations roles at the company. In 2014, he was selected to participate in iLEAD, a year-long developmental leadership program designed to build future, value-based leaders within Freeman.
Visit KC
Visit KC recently welcomed three new members to its sales team: Kristine Becker as national account manager, Carlissa Riddle as sales manager and Mackenzie Nelson as convention sales coordinator.
A native Oregonian who has served in the travel industry for more than 25 years, Becker previously worked for Travel Portland from 2004-2020, the last 13 years remotely. Prior to working at Travel Portland, she held various hotel sales roles in the Portland area.
Bringing a wealth of experience in the hospitality industry, Riddle most recently worked as a director of national accounts for Kansas City-based Global Cynergies, where she handled a portfolio of corporate and association-based customers in site selection and meeting support. Prior to that role, she opened the Home2 Suites by Hilton near the Kansas City International Airport as its director of sales. She also worked at the Ritz Carlton, Philips House Hotel and was part of the opening team for the Argosy Hotel in Kansas City.
A graduate of the University of Missouri in 2020 with a degree in Hospitality Management, Nelson recently worked as a benefits coordinator with Lathrop GPM LLP and executed several internships with the Mizzou Alumni Association, the Kauffman Foundation and Starlight Theatre, among others.
Visit Indy
Visit Indy, Indianapolis' official CVB, recently welcomed two new additions and promoted three members of its sales team.
As the new national account director, Kevin Harmon will manage accounts in the western half of the U.S. from 76 to 1,000 peak rooms, alongside the select Midwest market (Alabama, Indiana, Louisiana, Mississippi, Tennessee) for 601-plus peak room groups. He brings nearly two decades of hotel sales experience to the Visit Indy team, most recently serving as associate director of sales for the Hyatt Regency Indianapolis.
As a new account manager, Max Spradlin joins the Visit Indy team after graduating with a bachelor's degree in marketing from the University of Southern Indiana. His new role entails managing the meetings express (i.e., groups under 75 peak rooms) market from 10 to 75 peak rooms nationwide, as well as supporting the national account director in the CVB's Chicago office from 76 to 350 peak rooms and its senior national account director in the East Coast market from 76 to 500 peak rooms.
Visit Indy also recently promoted Brooke Faris from account manager to national account manager, Chris Cecil, Jr. from meetings express sales manager to account manager and Minerva Garcia from national account director to senior national account director.
Have some trade show-related people news to share? Please send announcements and high-resolution headshots to lpsavas@tsnn.com.
Don't miss any event-related news: Sign up for our weekly e-newsletter HERE, listen to our latest podcast HERE and engage with us on Twitter, Facebook and LinkedIn!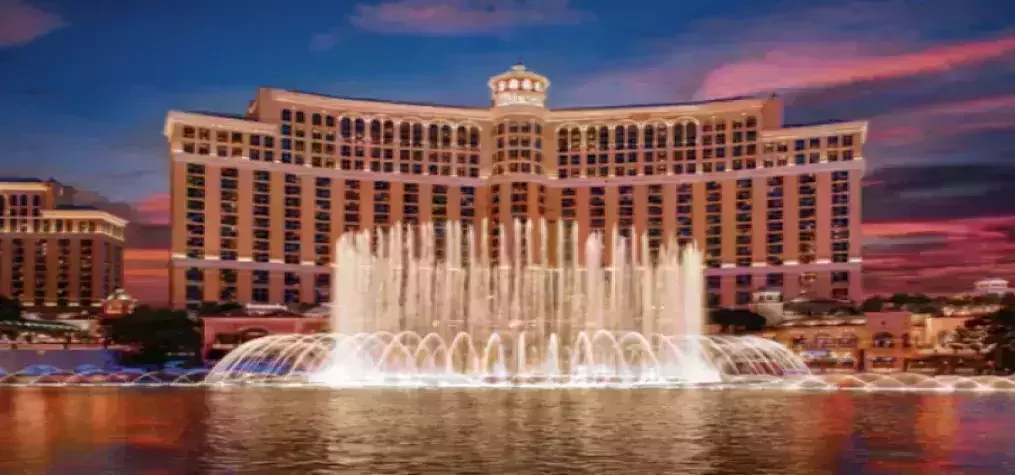 HERE, hosting responsible meetings and caring for our communities are top priorities. Through its 'Focused on What Matters: Embracing Humanity and Protecting the Planet' philosophy, MGM Resorts commits to creating a more sustainable future, while striving to make an impact in the lives of employees, guests, and the communities in which it operates. Water Stewardship Efforts MGM Resorts understands the importance of using water efficiently, especially in the desert destination of Las Vegas. Conserving water has always been part of the mission, but MGM Resorts has expanded its ambition into water stewardship. In 2022, MGM Resorts President and CEO Bill Hornbuckle signed the CEO Water Mandate—a UN Global Compact initiative mobilizing business leaders to advance water stewardship. MGM Resorts International was the first gaming company to take this important step. MGM Resorts replaced 200,000 square feet of real grass with drought-tolerant landscaping in Las Vegas. MGM Resorts pledges to reduce water withdrawal intensity by 33% by 2025 and by 35% by 2030. From 2007-2021, use of more than 5.6 billion gallons of water was avoided because of conservation efforts. Caring for One Another MGM Resorts' Food Donations Program collects and preserves unserved food from conventions held at MGM Resorts properties, then safely donates to food insecure people in the community. Since the program's launch in 2016, more than 3.7 million meals toward a 2025 goal of 5 million meals have been donated into the community. Donations include: Unserved perishable prepared foods from events Perishable unprepared food from MGM Resorts' kitchens Nonperishable food items from minibars and warehouses The collaboration with Southern Nevada's primary food bank, Three Square, has developed the infrastructure needed to safely collect, transport, and store food from MGM Resorts properties in Las Vegas, reducing food waste while serving the community. Fostering Diversity and Inclusion To MGM Resorts, a diverse and talented workforce is essential to success. By cultivating innovative strategies that consider multiple perspectives and viewpoints, the company creates an inclusive workplace culture that benefits its employees and community. MGM Resorts takes pride in being a welcoming home for veterans, individuals with disabilities, people from diverse backgrounds, LGBTQ+ community members, and more. This commitment to inclusion is reflected in the company's recruitment and hiring practices and its social responsibility initiatives. From the workplace to the community, MGM Resorts' commitment to diversity, equity and inclusion remains unwavering, and its efforts continue to create a more equitable and sustainable world for all. MGM Resorts understands its responsibility to contribute to the social and economic progress of the communities in which it operates. HERE, we embrace humanity.