2019 TOP Trade Shows List
The 2019 TSNN Top Trade Show List is exclusively sponsored by Expocad and the Orlando/Orange County Convention Center.

For a complete 2019 TSNN Top Trade Shows list that includes contact information please contact John Rice jrice@tsnn.com.
* Professional attendee figure includes exhibit personnel
TSNN Rank by NSF
Event
Event Date(s)
Venue
21

HIMSS19

Health information and technology event of the year, where professionals throughout the global health ecosystem connect for the education, innovation and collaboration they need to re-imagine health and wellness for everyone, everywhere.

Organizer: Healthcare Information & Management Systems Society (HIMSS) # Exhibitors: 1,328 # Attendees: 17,655

02/11/2019 to 02/15/2019

Orange County Convention Center

NSF: 606,750

22

International Production & Processing Expo (IPPE)

The International Production & Processing Expo (IPPE) is an integrated tradeshow sponsored by U.S. Poultry & Egg Association, North American Meat Institute and American Feed Industry Association. Held annually in Atlanta, Ga, IPPE attracts attendees from across the globe involved in the production and processing of meat, poultry, egg and animal feed products. Exhibitors showcase their latest technology in equipment, services and supplies to supply protein products that feeds the world. 25% of the attendees are International and represent industries from more than 130 countries. 2019 IPPE set records in # exhibitors, net square footage, overall attendance and international attendees.

Organizer: U.S. Poultry & Egg Association, American Feed Industry Association and North American Meat Institute # Exhibitors: 1,426 # Attendees: 32,655*

02/12/2019 to 02/14/2019

Georgia World Congress Center Atlanta

NSF: 594,052

23

IAAPA Expo

IAAPA Expo is the premier conference and trade show for the global attractions industry, including amusement and theme parks, where visitors spend $45.2 billion around the world. International leaders, decision makers, and visionaries within the global attractions industry come to Expo to see the latest innovations, learn from each other, network, and plan for the future.

Organizer: International Association of Amusement Parks & Attractions (IAAPA) # Exhibitors: 1,144 # Attendees: 27,900

11/18/2019 to 11/22/2019

Orange County Convention Center Orlando

NSF: 589,600

24

Natural Products Expo West

Natural Products Expo West/Engredea is the premier trade show for the healthy products and ingredients industry. Co-located with Fresh Ideas Organic Marketplace, these combined events showcase the entire value chain of healthy products from start to finish, identifying the bestsellers of today and the trends of tomorrow. Natural Products Expo West/Engredea is ranked as one of the top 50 shows in the US and one of the fastest 50 growing tradeshows in the US and Canada.

Organizer: Informa Markets # Exhibitors: 3,697 # Attendees: 52,120

03/06/2019 to 03/10/2019

Anaheim Convention Center

NSF: 583,696

25

Offshore Technology Conference

The Offshore Technology Conference (OTC) is where energy professionals meet to exchange ideas and opinions to advance scientific and technical knowledge for offshore resources and environmental matters. Celebrating 50 years since 1969, OTC's flagship conference is held annually at NRG Park (formerly Reliant Park) in Houston. OTC has expanded technically and globally with the Arctic Technology Conference, OTC Brasil, and OTC Asia.OTC is sponsored by 13 industry organizations and societies, who work cooperatively to develop the technical program. OTC also has endorsing and supporting organizations.

Organizer: Offshore Technology Conference # Exhibitors: 2,325 # Attendees: 35,968

05/06/2019 to 05/09/2019

NRG Park

NSF: 564,840

26

National Hardware Show

The National Hardware Show® (NHS) celebrates a rich history spanning 75 years of serving the home improvement marketplace. From its early beginnings in New York during the post-World War 2 housing boom and eventual move to Chicago in the 1970s, to today's current location in Las Vegas, NHS continually evolves through the industry's involvement, commitment and passion to improving quality of life through their homes and beyond. Today, NHS is the place for global manufacturers, associations, organizations and the media to get an unfiltered view of the industry, hands-on experiences, and access to the latest innovations and retail trends to enhance their business.

Organizer: Reed Exhibitions U.S.A. (Norwalk, CT) # Exhibitors: 2,654 # Attendees: 11,125

05/07/2019 to 05/09/2019

Las Vegas Convention Center

NSF: 556,000

27

AAPEX

AAPEX represents the $356 billion global motor vehicle aftermarket. Exhibitors are represented by the manufacturers and suppliers of automotive parts, including products and services purchased for light- and heavy-duty vehicles after the original sale, such as replacement parts, accessories, lubricants, appearance products and service repairs, as well as the tools and equipment necessary to make the repair. Attendees are represented by wholesalers, warehouse distributors, jobbers, retailers, independent service providers, technicians, parts stores, manufacturers representatives, exporters, importers and packagers from the U.S. and 149 countries.

Organizer: William T. Glasgow Inc. # Exhibitors: 2,545 # Attendees: 70,256

11/05/2019 to 11/07/2019

Sands Expo & Convention Center

NSF: 542,800

28

InfoComm

InfoComm is the largest professional audiovisual trade show in North America, with thousands of products for audio, unified communications and collaboration, display, video, control, digital signage, home automation, security, VR, and live events.

Organizer: AVIXA - The Audiovisual and Integrated Experience Association # Exhibitors: 927 # Attendees: 43,230*

06/12/2019 to 06/14/2019

Orange County Convention Center

NSF: 524,339

29

FDIC International (Fire Department Instructors Conference)

FDIC International offers 35,000+ Fire & Rescue professionals from 65+ countries around the world, quality world-class instructors, classrooms, workshops, H.O.T. evolutions and the most innovative products and services available to the industry displayed by over 800 exhibiting companies. The FDIC Experience is more than your traditional trade show it's about the learning and sharing with your peers formally and informally through hallway conversations, developing life-long friendships and recharging your passion for the industry.

Organizer: Clarion Events # Exhibitors: 784 # Attendees: 29,741

04/08/2019 to 04/13/2019

Indiana Convention Center

NSF: 499,175

30

International Air-Conditioning, Heating, Refrigerating Expo - AHR Expo

As the largest and most comprehensive HVACR exposition in the world, the AHR Expo attracts tens of thousands of attendees from all facets of the industry, including contractors, engineers, dealers, distributors, wholesalers, OEMs, architects, builders, industrial plant operators, facility owners and managers, agents and reps.

Organizer: International Exposition Company (IEC) # Exhibitors: 1,824 # Attendees: 27,047

01/14/2019 to 01/16/2019

Georgia World Congress Center

NSF: 493,120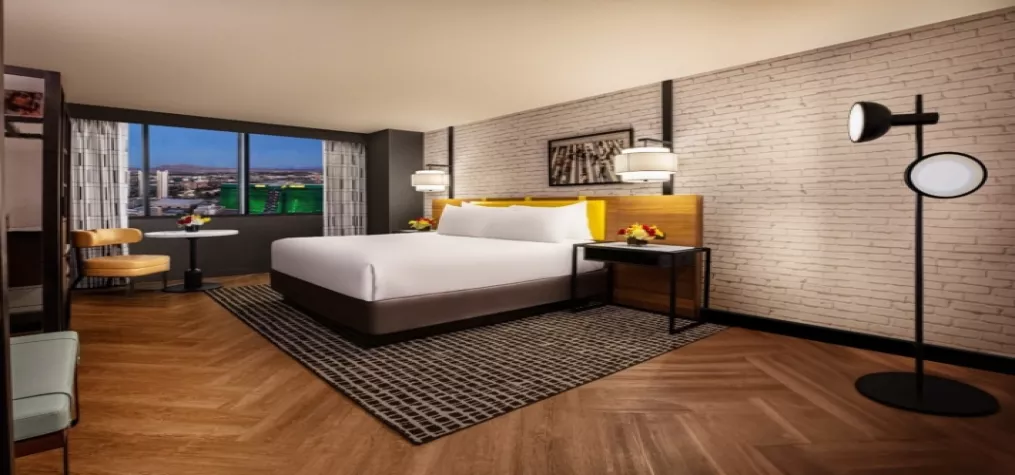 Just when it seems like Las Vegas can't get any bigger, brighter or more exciting for groups, MGM Resorts raises the bar again. The company continues to invest and innovate across its portfolio of Las Vegas resorts, with new attractions and upgraded experiences for attendees of all interests.  Remodeled Guest Rooms MGM Grand is the largest single hotel in the world with over 5,000 guest rooms and an 850,000-square-foot conference center. It is home to the newly remodeled MGM Grand Studio Tower—700 reimagined guest rooms with a fun mid-century vibe. Nearby, the iconic New York-New York Las Vegas Hotel & Casino recently completed a $63M redesign and remodel of its 1,830 guest rooms and 155 suites. Down the street, Bellagio Las Vegas is sporting renovated rooms in the Spa Tower with sunrise-inspired decor and luxurious soaking tubs in Premier King rooms after a $110-million transformation. Reinvented Luxury Experiences The Luxury Meetings District, made up of Bellagio Las Vegas, ARIA Resort & Casino, Vdara Hotel & Spa, The Cosmopolitan of Las Vegas, Park MGM and NoMad Las Vegas, is now more connected than ever before. A new interior walkway opened this October for a seamless attendee experience – connecting Vdara, Bellagio, and The Cosmopolitan of Las Vegas, guests can now walk from Park MGM to Bellagio in around 15 minutes. New on the scene in the Luxury Meetings District is Cathedrale at ARIA, TAO Group's upscale establishment specializing in exquisite French-Mediterranean cuisine offering elevated private dining experiences that opened in May. Heralded by World's Best 50 Restaurants, GQ and VOGUE, LPM at The Cosmopolitan of Las Vegas is opening this fall and will deliver its signature spontaneity and imaginative celebration of France's Mediterranean cuisine, art, and culture to the unique luxury resort in impeccable fashion.  A "New Wave  for Mandalay Bay A new wave of enhancements and experiences has arrived at Mandalay Bay Resort and Casino, including Flanker Kitchen + Sports Bar, an 8,445-square-foot restaurant that opened this June, perfect for pre- and post-game eats and drinks. Event planner's favorite, Chef Michael Mina's StripSteak, received a full renovation and now includes one of the largest private dining rooms on The Strip. Retro by Voltaggio debuts a one-year residency with a fun take on pop culture of the 80s and 90s with classic American dishes. An exciting addition planned for 2024 is Swingers, a 40,000-square-foot oasis of street food, miniature golf and art at Mandalay Bay. Most exciting for meeting planners, the 2.1 million-square-foot Mandalay Bay Convention Center  is undergoing a complete refresh, with lightened space, added eye-catching art, and improved technology infrastructure for even more flexible space. Energy-efficient digital signage now leads the way with faster internet speeds and new AV options. From renovated guest rooms and meeting spaces to celebrated dining options and dedicated teams, MGM Resorts is dedicated to delivering exceptional and innovative meeting experiences.