Straight Talk: Mac Campbell, Executive Director, Baltimore Convention Center
May 5, 2023
It can't be easy trying to fill the shoes of a longtime, widely respected industry veteran who held your new role for more than four decades. But that's exactly what Mac Campbell, the new executive director of the Baltimore Convention Center (BCC), has been attempting to do since taking the helm in January 2023. 
Campbell replaced the legendary Peggy Daidakis, the first female director of a major U.S. convention center, who retired last fall after 44 years with the BCC. In 1979, Daidakis helped open the BBC, Maryland's largest convention venue, ran it from 1986 to 2022, and was instrumental in planning its massive expansion.
A certified venue professional, Campbell began his career at the BCC as director of client services from 2012 to 2017, after which he was promoted to deputy director from July 2017 to November 2021. He left the facility for just over a year ago to work at the Strathmore Hall Foundation in North Bethesda, Md., as its vice president of operations, until he was tapped to return to the BCC to replace the recently retired Daidakis. He credits her with teaching him so much about the business and helping him grow as a venue professional. 
"Returning to the BCC has been the absolute homecoming of my dreams," Campbell said. "Being able to take the baton from Peggy, a woman whom I consider a dear friend and mentor, is something I take very seriously. The changes to come within the facility and Baltimore's hospitality industry stem from Peggy's legacy, and I look forward to helping drive that successful future as the next executive director." 
Passionate about environmental and community stewardship, Campbell helped develop new programs at the BCC that led to the venue receiving APEX/ASTM Green Meetings certification in 2015 and the Maryland Green Registry Leadership Award in 2019. He also created opportunities to partner with local Baltimore charities through staff volunteer work and the diversion of unused goods and food products from meetings and conventions held at the facility. This dedication and tireless work led the Events Industry Council (EIC) to award Campbell with its Pacesetter Award in 2017 as a thought leader in the event industry. 
Prior to his official swearing-in by Baltimore City Mayor Brandon Scott on April 18, TSNN had a chance to catch up with Campbell to hear about his plans for the BCC, including advancing its green initiatives, why focusing on composting and recycling at events isn't enough anymore, and how more event venues and professionals can move the needle forward in achieving a more environmentally responsible industry. 
What are some of your biggest focuses for the BCC this year, and what are you most excited about?

 
Beyond the given "new guy" necessities of starting in this role, I have a few. I am excited to continue to help facilitate economic impact for the region through the maximization of space under our roof. The BCC and Visit Baltimore work very hard to speak with one voice and show the value proposition that resonates for each client. In my role, I want to personally dig deeper with all our groups to make sure we're helping them tell positive stories to their stakeholders and maximize their ROI. 
A greater focus will be on engaging the greater Baltimore community to find new ways to bring "Charm City" into our building, whether it be through new public and local art, interactive exhibits about our neighborhoods and attractions, CSR relationships curated for our clients or new ways to get local, minority-owned products prominently playing a role in the story of a client's stay with us. 
And most importantly, to continue to advocate voraciously for the modernization and expansion of the BCC while making sure we are doing so with input from the meeting and trade show customers that are vital to our success.
You have demonstrated a passion for event sustainability long before your current role, including developing new programs to enable the BCC to receive APEX/ASTM Green Meetings certification. Why is this issue important to you?

 
Environmental stewardship is one piece of a much bigger responsibility of being a proactive community member. We teach our team efforts to positively impact our clients, who then take these initiatives home to their families. And once shown to our clients and patrons, we hope that it resonates with them, setting the bar for future shows across the country. 
This journey has allowed us to meet and work with so many local non-profits and national thought leaders that we wouldn't have known otherwise. Whether it's more sellable items to help fund the mission of Second Chance or reducing feed costs to keep prices down for products from Carriage House Farms, we're bettering our community in more ways than was expected of the convention center of yesterday.  
How do you plan to advance the BCC's green and community initiatives going forward? 

 
We are adhering to the new EIC Sustainable Event Standards and hosting their Sustainable Event Professional Certification (SEPC) program for meeting planners and our hospitality community. Getting more industry professionals trained in preaching the importance of these initiatives is pivotal. 
Expanding on last summer's launch of our rooftop beehives with reinvestment in our green terrace, the convention center's massive roof space is a unique opportunity to grow native, urban vegetation and help sustain dwindling bee populations.   
Continuing our work with the Maryland Food Bank and the Meal Connect program ensures that food gets to mouths in need before it is sourced as scraps. Meal Connect is one of a few technologies that allow non-profits and hospitality providers to match-make quickly and get donated food from point A to point B. We started these efforts pre-pandemic and hope to really see the potential as business returns in earnest in 2023.  
The trade show and events industry has been talking the talk about sustainability for many years. What do you believe it will take to motivate the industry to become truly sustainable? 
There has been so much focus on recovering our businesses and customer bases as we come out of the pandemic that the attention this topic was gaining in 2019 has taken a backseat. There needs to be a collaborative effort to reengage and bring focus back to reducing our industry's impact on carbon emissions and material waste, and make a clear correlation to this work and the part it plays toward a more equitable society. I've found that the quicker you can get past "recycling and composting" as talking points and get to how the end results of our efforts can help improve the quality of living in our communities, especially for those with the most need, gets the needle moving faster. 
I want to take this opportunity to encourage everyone to adopt the EIC Sustainable Event Standards regardless of if you're an organizer, supplier or destination. If we all set the expectation for one another, we'll learn that much faster and drive the positive change we so badly need.   
How do you pursue sustainability and community outreach in your everyday life, and what are some of your favorite practices and activities?
As a father of a two-year-old, I'm learning that time isn't exactly my own anymore! I spend the moments in between work and parenthood trying to source from as many local, minority-owned and sustainable businesses and/or Certified B Corporations as I can to allow my everyday actions to speak to my dedication. Now that I'm back in Baltimore, I'm looking for an organization that I can volunteer with that I think will make a lasting impact on my family's and my team's family's kids for years to come.

Don't miss any event-related news: Sign up for our weekly e-newsletter HERE, listen to our latest podcast HERE and engage with us on Twitter, Facebook and LinkedIn!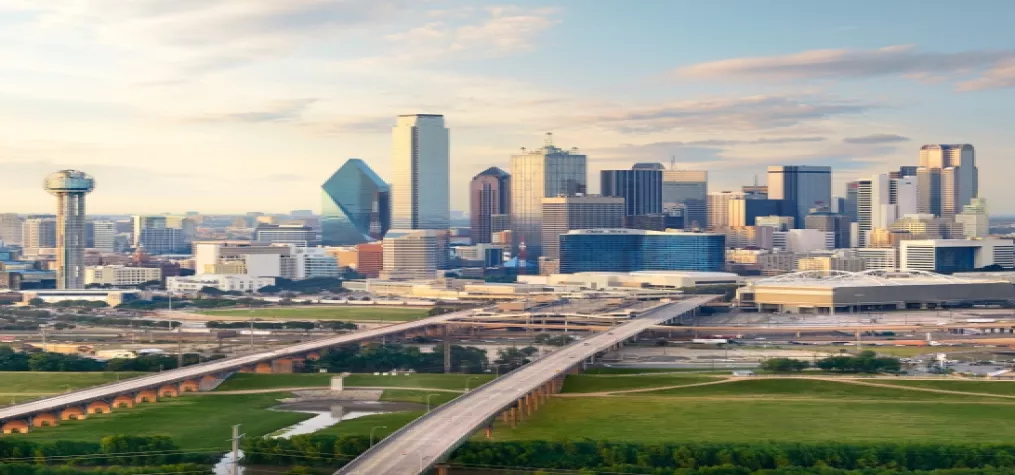 Dallas already boasts 35,000 hotel rooms, award-winning global cuisine, and a walkable downtown. But we are just getting started. Visit Dallas is thrilled to announce that the city of Dallas is doubling down with a massive new convention center and entertainment district. Featuring 800,000 square feet of exhibit area, 260,000 square feet of meeting rooms, and 170,000 square feet of ballroom. The center will connect business travelers with dining and shopping options in the popular Cedars District means more places to get down to business, and even more ways to unwind. "Dallas is already a great meetings and conventions destination, with the accessibility of two major airports, affordable labor, and an outstanding hotel product," said D. Bradley Kent, Visit Dallas senior vice president and chief sales officer. "The new center and Convention Center District will enhance Dallas' competitive position and are exactly what our customers' need and have been asking for." What's New – AT&T Discovery District Located in the heart of Downtown Dallas, this new district on the AT&T corporate campus is tailor-made for groups of all sizes. It boasts a multi-sensory experience, including outdoor event space, the AT&T Theater, and multiple dining outlets including JAXON Beer Garden and The Exchange, a bustling food hall. Hotels Coming Soon Names like the JW Marriott (Downtown), lnterContinental Dallas (Uptown), and Hotel Swexan (Uptown) are adding luxury amenities and bountiful event spaces. The projects will debut in 2023 and beyond. JW Marriott This new, 15-story, 283-room hotel will open in the heart of the city's downtown Arts District this year. The property features a 25,000-square-foot grand ballroom, as well as a spa, restaurant, lobby bar, fitness center, and a rooftop pool deck and bar. InterContinental Dallas  Located in Cityplace Tower in Uptown, InterContinental Dallas will feature sweeping panoramic views of the Dallas skyline. Guests will enjoy spacious, high-end rooms and amenities, including more than 21,000 square feet of event space.   Hotel Swexan Hotel Swexan, a new, 22-story luxury property, is rising in Uptown's Harwood District and will make its mark on the Dallas skyline. Opening this year, it is a sculptural building with cantilevered upper floors, as well as a 75-foot rooftop infinity-edge swimming pool and a hidden underground lounge.