The Next Generation of Registration and Housing: MCI's OneSystem Plus
May 1, 2023
OneSystem Plus delivers organizers the most speed, control, and customization out of any other registration and housing platform.
Most show organizers have gotten used to the limitations of traditional registration and housing platforms on the market today. If you are a smaller event, a SaaS platform is great for configurability, compliance, and a quick turnaround, but lacks customization, basic integration, and the ability to handle large group support. For organizers of large events, a custom platform offers a different but similar experience. It can handle large events, is fully customizable with the use of developers and has lots of integrations, but has a slow turnaround, lacks user tools, is expensive and difficult to learn.
Why not have the best of both platforms?
MCI, with over 30 years of experience, set out to answer the question of; what would happen in event registration and housing if you combined the best of both SaaS platforms and custom platforms? The answer is OneSystem Plus. It delivers events of all sizes the utmost speed, control and customization for registration, housing, and lead cultivation. With OneSystem Plus, MCI's world-class experts handle everything, but also offer a full suite of user tools for those who want to do it themselves. All events, both big and small, can be on one platform. OneSystem Plus also comes with an analytics platform and more user tools than any other platform.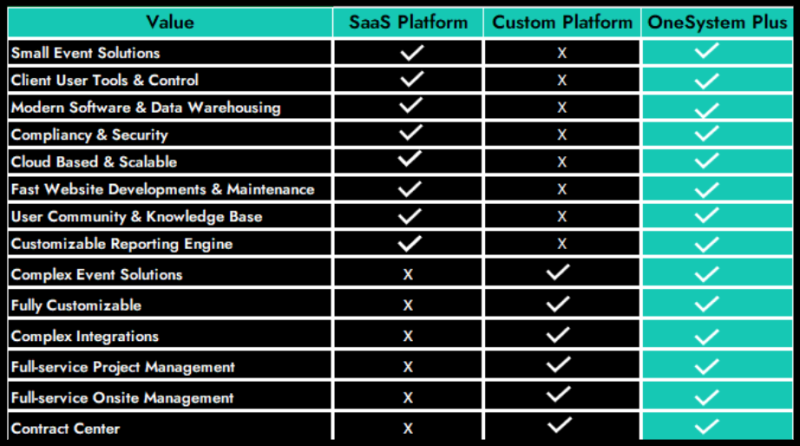 Speed up your launch
Organizers are seeking flexible and innovative services to meet the needs of their constituents for their events. Competitors who use these traditional platforms can take months to build a registration site, going back and forth with information. With OneSystem Plus, you can set up a registration site in days and weeks. No programmers are needed —just our skilled team. You can even copy and update your previous events in seconds. OneSystem Plus has integrations with every major platform, that can be reused from year to year, so it saves you the time and hassle of working on them over and over.
Control your platform
With OneSystem Plus, you are in control. It comes with more user tools than any other platform on the market and there are tools for your staff, attendees, and exhibitors. Enjoy the ease of having one platform for registration, housing, and lead cultivation. Not only does OneSystem Plus allow you to control every aspect of the registration and housing process, but it also lets you keep housing open post-cutoff for late reservations.
Customize your features
OneSystem Plus was created for corporate, association, and multi-show organizers looking for customization, user tools, and flexibility that other platforms cannot provide. It handles any business rules that your events require, and it can track attendee behavior and provide scoring that shows organizers their most and least engaged audience members. OneSystem Plus has an integrated virtual platform that allows you to expand your event's reach beyond the physical event. It includes AI-powered lead cultivation so your exhibitors will receive better leads that will result in more sales. Plus, it is highly safe and secure and meets all compliance requirements.
The next generation of registration and housing is here. OneSystem Plus is a full-service solution, delivering registration services, housing services, and AI-powered lead cultivation services to MCI clients worldwide. From small to large events, from simple to complex, OneSystem Plus has you covered.
Visit us to learn more.
Request a demo today: Convention.sales@wearemci.com
This article is exclusively sponsored by MCI USA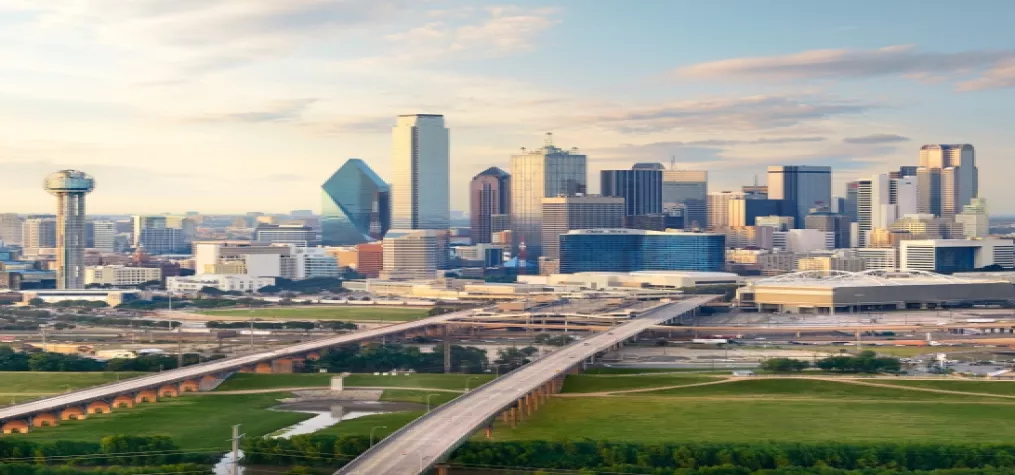 Dallas already boasts 35,000 hotel rooms, award-winning global cuisine, and a walkable downtown. But we are just getting started. Visit Dallas is thrilled to announce that the city of Dallas is doubling down with a massive new convention center and entertainment district. Featuring 800,000 square feet of exhibit area, 260,000 square feet of meeting rooms, and 170,000 square feet of ballroom. The center will connect business travelers with dining and shopping options in the popular Cedars District means more places to get down to business, and even more ways to unwind. "Dallas is already a great meetings and conventions destination, with the accessibility of two major airports, affordable labor, and an outstanding hotel product," said D. Bradley Kent, Visit Dallas senior vice president and chief sales officer. "The new center and Convention Center District will enhance Dallas' competitive position and are exactly what our customers' need and have been asking for." What's New – AT&T Discovery District Located in the heart of Downtown Dallas, this new district on the AT&T corporate campus is tailor-made for groups of all sizes. It boasts a multi-sensory experience, including outdoor event space, the AT&T Theater, and multiple dining outlets including JAXON Beer Garden and The Exchange, a bustling food hall. Hotels Coming Soon Names like the JW Marriott (Downtown), lnterContinental Dallas (Uptown), and Hotel Swexan (Uptown) are adding luxury amenities and bountiful event spaces. The projects will debut in 2023 and beyond. JW Marriott This new, 15-story, 283-room hotel will open in the heart of the city's downtown Arts District this year. The property features a 25,000-square-foot grand ballroom, as well as a spa, restaurant, lobby bar, fitness center, and a rooftop pool deck and bar. InterContinental Dallas  Located in Cityplace Tower in Uptown, InterContinental Dallas will feature sweeping panoramic views of the Dallas skyline. Guests will enjoy spacious, high-end rooms and amenities, including more than 21,000 square feet of event space.   Hotel Swexan Hotel Swexan, a new, 22-story luxury property, is rising in Uptown's Harwood District and will make its mark on the Dallas skyline. Opening this year, it is a sculptural building with cantilevered upper floors, as well as a 75-foot rooftop infinity-edge swimming pool and a hidden underground lounge.