Attendees Turn Out in Full Force for ProMat, Global Pet Expo 2023
May 4, 2023
U.S. trade shows are continuing their robust return to face-to-face, attracting industry professionals from far and wide to connect and conduct business on bustling show floors. Here are two major events that pulled off successful and record-setting editions recently. 
ProMat 
Following a four-year, pandemic-induced hiatus, the manufacturing, logistics and supply chain community came together for a record-setting ProMat 2023 trade show and conference, held March 20-23 at Chicago's McCormick Place. Typically held biennially in the Windy City, the pent-up demand resulted in the show boasting its largest edition to date, outpacing its 2019 edition with 12% more attendees.
According to show producer MHI, an international trade association representing the material handling, logistics and supply chain industry, the event attracted 50,924 registered attendees, including international attendees representing 178 countries, and 1,051 exhibitors spanning 562,700 net square feet of expo space.
"MHI is committed to bringing this industry together to share leading-edge trends, technology and innovations," said John Paxton, CEO of MHI. "The success of ProMat 2023 is proof of that and the supply chain industry's continued relevance to the marketplace and central role in commerce." 
He continued, "No other event showcases all this industry has to offer to improve operational productivity and efficiency across manufacturing and supply chains. With so much tech and end-to-end solutions, ProMat offers this industry a one-stop-shop for solutions and the unparalleled education attendees need to survive and even thrive in a constantly changing marketplace." 
Out on the show floor, a dominant trend was the focus on digital supply chain solutions, including automation, robotics, AI, autonomous vehicles, augmented reality, the Internet of Things (IoT) and end-to-end data transparency. 
"We're seeing a big acceleration in the adoption of these technologies over the next five years in manufacturing and supply chain operations," Paxton added. "The solutions on display this year were evidence of this trend."  
According to Daniel McKinnon, MHI executive vice president of exhibitions, the energy on the show floor and the connections being made was a clear sign of the power of the industry the show represents. 
"Attendees representing the Fortune 500, the top 100 retailers and consumer goods firms brought large teams to ProMat to source the latest technologies and to learn leading trends impacting supply chains," McKinnon said. "They came to ProMat with plans in hand and budgets in place to improve their operations and build resilient supply chain operations for future success."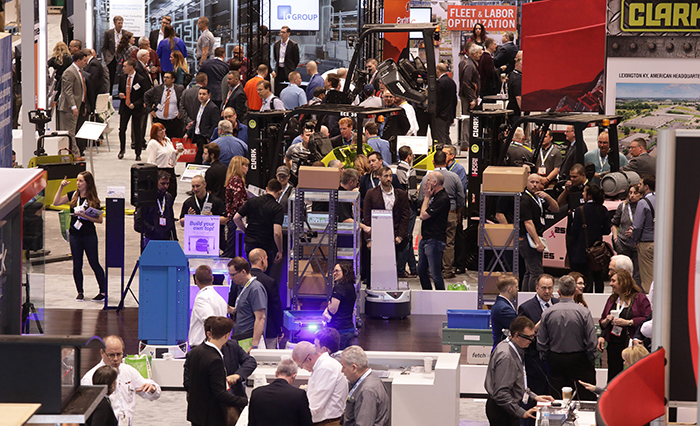 The tech trend at the show was also evident in the sessions at ProMat's Supply Chain Conference, which provided more than 150 educational seminars and four keynotes. Headlining speakers included Michelle Dilley, CEO of AWESOME, who led a panel of senior-level women supply chain professionals; José Andrés, chef and founder of World Central Kitchen, who shared his work in delivering humanitarian relief in hard-hit areas such as Ukraine and Turkey; and Ron Howard, Academy Award-winning director, who inspired the audience with tales of creativity and mentoring during his storied film career. 
During a panel discussion with four industry thought leaders, Paxton and Deloitte's Wanda Johnson released the findings of the 2023 MHI Annual Industry Report: "The Responsible Supply Chain: Transparency, Sustainability and the Case for Business," which details the revolutionary adoption of supply chain technology.
ProMat also featured two paid conference sessions, the Women in Supply Chain Conference on March 20 and WERC Connects on March 21, which each attracted 200 attendees and featured lunch, networking and an educational session.  
The energetic show also offered several special events and activities, including Industry Night, which included entertainment and fundraising events; awards ceremonies such as the MHI Innovation Awards and the MHI StartUp Award; and Student Day at ProMat, which introduced 381 high school and university students and educators to career opportunities in material handling, supply chain and logistics through hands-on learning and networking with industry professionals. 
ProMat will return to McCormick Place in 2025. 
Global Pet Expo 
More than 16,000 attendees across all categories of the pet industry came together for Global Pet Expo 2023, the pet industry's premier international event, held March 22-24 at the Orange County Convention Center (OCCC) in Orlando, Fla.
"We spent three days with our peers recognizing and celebrating our collective achievements and collaborating on shared opportunities," said Peter Scott, president and CEO of the American Pet Products Association (APPA), which produces the event alongside the Pet Industry Distributors Association (PIDA).
He continued, "From invaluable networking events to education sessions from some of the most reputable experts in our field and more, Global Pet Expo is more than a trade show. It's where the pet care community comes to do business because it drives ROI." 
On a vibrant showfloor spanning 321,000 square feet, 1,020 exhibiting companies — an increase of more than 40% compared to 722 exhibitors in 2022 — showcased an innovative and bountiful array of pet care products and supplies across numerous trending consumer categories, from technology, to sustainable and eco-friendly products, to home-cooked meals for pets. 
Global Pet Expo also experienced record-breaking attendance at the reimagined Networking Reception and Global Learning education series. Nearly 2,000 attendees took part in the show's conference, which delivered more than 40 hours of educational content developed specifically for retailers, distributors, exhibitors and special interest groups in attendance.  
Show programs included appearances by pet industry celebrities and influencers, while show floor destinations grew in participation and size, with strong interest in the Buyers Lounge, the New Products Showcase and the Sports Bar.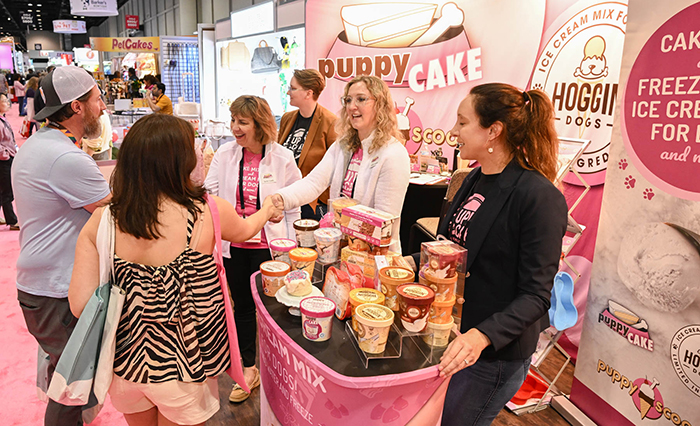 Additionally, the international pet care community displayed a particularly strong showing at the show, with participation from exhibitors and buyers from 86 countries and dedicated Country Pavilions for exhibitors from Brazil, Canada, China and Taiwan. 
New and unique show offerings included the Exhibitor Success & ROI Center, which offered proven-effective expert guidance and resources for exhibitors to achieve their business objectives and deliver measurable financial value, as well as a new influencer program to build the show's influencer network and help exhibitors establish and build their own influencer partnerships. At the new First-Time Buyer Orientation, first-time buyers were invited to hear tips and best practices to optimize their show experience.
Other show highlights included: 
The 13

th

annual New Products Showcase Awards:

Chosen by international and domestic buyers attending Global Pet Expo, the Best in Show, second and third place honors were awarded across nine product categories, including aquatic, bird, boutique, cat, dog, natural, reptile, point of purchase and small animal. Winners were announced during Global Pet Expo's "Best in Show" Awards ceremony. With more than 1,000 submissions, this year's awards were extremely competitive.

CSR efforts:

Through its relationship with the Pet Alliance of Greater Orlando, Global Pet Expo gives back to the local community by providing exhibitors with the opportunity to donate products from their booths to the animal welfare community following the show. Adoptable animals from the Pet Alliance were also on-site at several exhibitor booths, giving attendees the opportunity to meet and adopt local rescue animals. 

 

Sustainability initiatives:

During the event, Global Pet Expo kicked off numerous sustainability initiatives that the show's team aims to grow in subsequent years with a goal of leaving the OCCC and Orlando Metropolitan clean. This includes partnering with O-Town Compost and the convention center's on-site recycling ambassadors to compost over 234 lbs. of food and beverage waste that will turn into 75 lbs. of nutrient-rich compost.
"The entire Global Pet Expo team was energized by the success of this year's show," said Celeste Powers, president of PIDA. "The event left us more optimistic than ever about the bright future of our industry. We plan to use this inspiration as we kick off planning for next year!" 
Global Pet Expo will return to the OCCC March 20-22, 2024.
Don't miss any event-related news: Sign up for our weekly e-newsletter HERE, listen to our latest podcast HERE and engage with us on Twitter, Facebook and LinkedIn!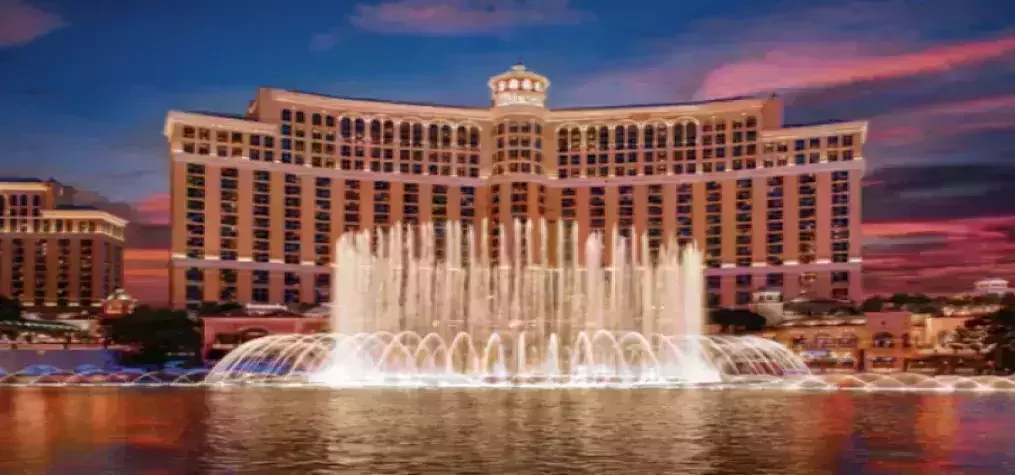 HERE, hosting responsible meetings and caring for our communities are top priorities. Through its 'Focused on What Matters: Embracing Humanity and Protecting the Planet' philosophy, MGM Resorts commits to creating a more sustainable future, while striving to make an impact in the lives of employees, guests, and the communities in which it operates. Water Stewardship Efforts MGM Resorts understands the importance of using water efficiently, especially in the desert destination of Las Vegas. Conserving water has always been part of the mission, but MGM Resorts has expanded its ambition into water stewardship. In 2022, MGM Resorts President and CEO Bill Hornbuckle signed the CEO Water Mandate—a UN Global Compact initiative mobilizing business leaders to advance water stewardship. MGM Resorts International was the first gaming company to take this important step. MGM Resorts replaced 200,000 square feet of real grass with drought-tolerant landscaping in Las Vegas. MGM Resorts pledges to reduce water withdrawal intensity by 33% by 2025 and by 35% by 2030. From 2007-2021, use of more than 5.6 billion gallons of water was avoided because of conservation efforts. Caring for One Another MGM Resorts' Food Donations Program collects and preserves unserved food from conventions held at MGM Resorts properties, then safely donates to food insecure people in the community. Since the program's launch in 2016, more than 3.7 million meals toward a 2025 goal of 5 million meals have been donated into the community. Donations include: Unserved perishable prepared foods from events Perishable unprepared food from MGM Resorts' kitchens Nonperishable food items from minibars and warehouses The collaboration with Southern Nevada's primary food bank, Three Square, has developed the infrastructure needed to safely collect, transport, and store food from MGM Resorts properties in Las Vegas, reducing food waste while serving the community. Fostering Diversity and Inclusion To MGM Resorts, a diverse and talented workforce is essential to success. By cultivating innovative strategies that consider multiple perspectives and viewpoints, the company creates an inclusive workplace culture that benefits its employees and community. MGM Resorts takes pride in being a welcoming home for veterans, individuals with disabilities, people from diverse backgrounds, LGBTQ+ community members, and more. This commitment to inclusion is reflected in the company's recruitment and hiring practices and its social responsibility initiatives. From the workplace to the community, MGM Resorts' commitment to diversity, equity and inclusion remains unwavering, and its efforts continue to create a more equitable and sustainable world for all. MGM Resorts understands its responsibility to contribute to the social and economic progress of the communities in which it operates. HERE, we embrace humanity.