Taste Trends: Are Event Buffets Making a Comeback? 
May 1, 2023
Prior to the COVID-19 pandemic, buffets were a staple feature at most corporate meetings and events. But during the pandemic, this versatile, practical and popular meal option was basically eliminated due to health and safety concerns, as buffets typically involve guests handling shared utensils and serving dishes, thus potentially increasing the risk of virus transmission. To minimize this risk and keep both employees and guests safe, many hotels and event venues temporarily eliminated self-serve buffets and replaced them with alternatives such as plated or pre-packaged meals, or individually portioned servings.  
While this long-standing F&B option may look and operate a little differently than it did before the pandemic, buffets are steadily making a comeback at events in a post-COVID world. To get an idea of what to expect from event buffets in the new normal, we tapped a couple of experts: Jen Bargisen, senior executive chef with Sodexo Live!, and Adam Tanner, associate vice president of food and beverage at AHC Hospitality, who shared their experiences with this evolving dining option and how they're helping planners offer delicious and satisfying buffet fare for their attendees while also keeping them safe. 
Buffets used to be a staple feature at most business meetings and events before COVID-19. Now that we are moving forward into a post-pandemic era, are they returning and are planners asking for them?
Bargisen: Buffets are still being used and asked for. While they may not always be the de facto choice in a post-pandemic world, buffets will never go away, they may just look a little different. We are incorporating more action stations into the mix as well as more personalized service styles for guests. We also are working more closely with local purveyors and suppliers to really have hyperlocal produce and ingredients on display at business meetings and events. 
Tanner: There is still caution among meeting planners about planning too many buffet experiences for an entire program, but buffets are back on the agenda. In many meeting planners' minds, they remain the preferred dining option. Though the pandemic certainly brought attention to the potential health and safety hazards of open buffets, the industry has adapted quickly to include many best practices prompted by the pandemic into everyday operations.  
What changes have been made to make buffets more sanitary?
Bargisen: Many of our buffets are modifying the buffet style and switching to a staff-served buffet style. Essentially, this means advising the server how much you'd like of each item. and they prepare a plate for you. This new buffet style tweaks some of that independent dining experience, so you aren't directly piling your plate yourself. But, you can ask a server, who will dish items out to you and with a smile! 
Tanner: As hoteliers, we continually take precautions to ensure buffets feel safe and harmonious for all of our guests, including providing additional sanitizer stations, wrapping silverware and serving buffets and disposables upon request. In order to meet the needs of planners, we are able to customize serving styles and menus. There is a trend among meeting planners to request plated-up dining options for guests who are concerned about buffet-style dining. 
With F&B costs at an all-time high right now, what are some ways event planners can keep their event's culinary program engaging and delicious while staying on budget?
Bargisen: Staying on budget proves to be difficult occasionally, but I have found a few methods that make it a little more feasible. For example, portion size. Smaller portion sizes have become a major trend that allows the budget to be stretched a little further. On top of portion sizes, vegetarian and vegan meals have increased in popularity. Veggie-based meals traditionally cost far less than meals prepared with animal-based proteins. Another way to stick to a tighter budget due to high costs is to capitalize on simply delicious meals. Instead of constantly producing extravagant dishes, planners could ask chefs to create simple but elevated comfort food dishes that don't drain the planner's bank account!  
Tanner: Monitor your attendees' eating habits in collaboration with the hotel's operations team. In most cases, the traditional day of three meals and two breaks with food is too much for the guests. The old model of event dining is being challenged by some planners who place quality over quantity when it comes to food and beverage. Do your attendees typically skip breakfast? Offer a lighter breakfast and upgrade to a themed morning break that all attendees would partake in and in turn create memorable experiences. These small adjustments to programs can have a lasting impact.
Don't miss any event-related news: Sign up for our weekly e-newsletter HERE, listen to our latest podcast HERE and engage with us on Twitter, Facebook and LinkedIn!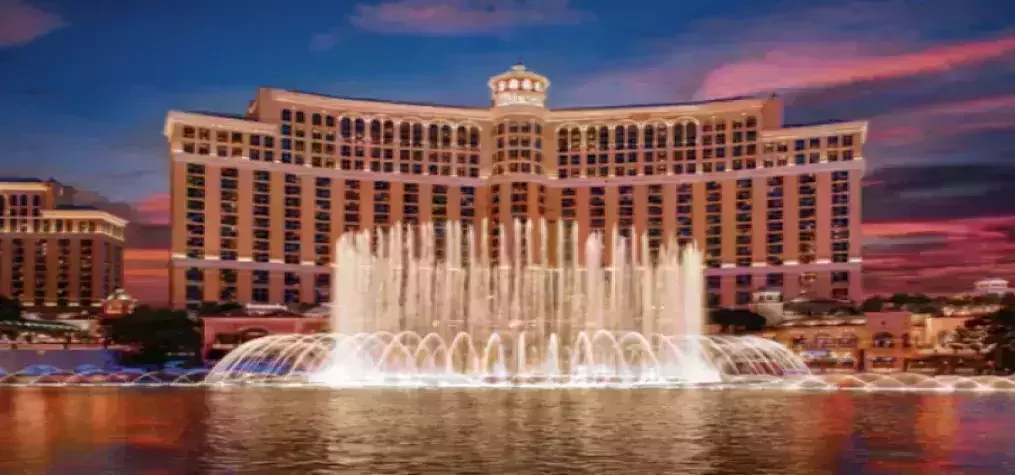 HERE, hosting responsible meetings and caring for our communities are top priorities. Through its 'Focused on What Matters: Embracing Humanity and Protecting the Planet' philosophy, MGM Resorts commits to creating a more sustainable future, while striving to make an impact in the lives of employees, guests, and the communities in which it operates. Water Stewardship Efforts MGM Resorts understands the importance of using water efficiently, especially in the desert destination of Las Vegas. Conserving water has always been part of the mission, but MGM Resorts has expanded its ambition into water stewardship. In 2022, MGM Resorts President and CEO Bill Hornbuckle signed the CEO Water Mandate—a UN Global Compact initiative mobilizing business leaders to advance water stewardship. MGM Resorts International was the first gaming company to take this important step. MGM Resorts replaced 200,000 square feet of real grass with drought-tolerant landscaping in Las Vegas. MGM Resorts pledges to reduce water withdrawal intensity by 33% by 2025 and by 35% by 2030. From 2007-2021, use of more than 5.6 billion gallons of water was avoided because of conservation efforts. Caring for One Another MGM Resorts' Food Donations Program collects and preserves unserved food from conventions held at MGM Resorts properties, then safely donates to food insecure people in the community. Since the program's launch in 2016, more than 3.7 million meals toward a 2025 goal of 5 million meals have been donated into the community. Donations include: Unserved perishable prepared foods from events Perishable unprepared food from MGM Resorts' kitchens Nonperishable food items from minibars and warehouses The collaboration with Southern Nevada's primary food bank, Three Square, has developed the infrastructure needed to safely collect, transport, and store food from MGM Resorts properties in Las Vegas, reducing food waste while serving the community. Fostering Diversity and Inclusion To MGM Resorts, a diverse and talented workforce is essential to success. By cultivating innovative strategies that consider multiple perspectives and viewpoints, the company creates an inclusive workplace culture that benefits its employees and community. MGM Resorts takes pride in being a welcoming home for veterans, individuals with disabilities, people from diverse backgrounds, LGBTQ+ community members, and more. This commitment to inclusion is reflected in the company's recruitment and hiring practices and its social responsibility initiatives. From the workplace to the community, MGM Resorts' commitment to diversity, equity and inclusion remains unwavering, and its efforts continue to create a more equitable and sustainable world for all. MGM Resorts understands its responsibility to contribute to the social and economic progress of the communities in which it operates. HERE, we embrace humanity.