IMEX Group Unveils Bright New Brand at Frankfurt Show
May 26, 2023
After nearly 18 months on the drawing board, IMEX Group's bold new brand refresh went live at IMEX Frankfurt, which took place May 23-25 at Messe Frankfurt. The design incorporates elements of its legacy brand, while infusing it with a fresh concept that keeps inclusivity in mind and features the company's first-ever sonic logo.
The brand review process was conducted by IMEX's in-house design team, led by Design Manager Anna Gyseman, who was a seminal member of the team that launched Grazia magazine into the U.K. market. Gyseman recruited ex-colleagues Tony Chambers, former editor and creative director of Wallpaper magazine; Suzanne Sykes, award-winning creative director, graphic designer and brand innovator; and Jonathan Clayton-Jones, creative director at the Telegraph Group.
Dot, Dot, Dot
Prior to the redesign, IMEX felt its existing identity no longer reflected the company or its live show experiences. Extensive workshopping with staff revealed a strong loyalty to some aspects of the old brand, however, it was agreed those elements representing people (the classic dots) were a legacy to be built upon, not thrown away.
"The minute the design team presented the winning concept to our staff, we knew they'd nailed it," said Carina Bauer, CEO of IMEX Group. "It captures our belief in the positive power of people from all over the world meeting eye to eye, face to face and shaking hands on a business deal or new friendship."
In clean, contemporary pastel colors derived from its heritage brand, the new design embodies the heart, purpose and business value IMEX stands for, according to Bauer.
"It works brilliantly as part of our show experiences and on our websites, signage and more," she said.
Inclusive Design Thinking
Using the latest inclusive design principles, the team created a soft brown tone affectionately called "IMEX biscuit" for use instead of classic white as a background color. The non-stimulating, neurodiversity-friendly color is designed to make readability easier for a broader range of people. 
'Sound' Judgment
Given the importance of online expression for a global brand, IMEX also has a unique sonic logo for the first time. Developed with the help of Brighton, U.K.-based Buff Motion, the soundtrack was designed to cleverly build anticipation of people coming together for a big event and embrace the fact that humans the world over celebrate community in the same way — with their hands and voices. Click here to play the sonic logo.
IMEX Group brought the new brand to life in various ways throughout the Frankfurt show.
"The atrium at Messe Frankfurt was the focal point for many of our 'hero' pieces," Bauer said. "IMEX Frankfurt was a living showcase for the new look."
The group's brand refresh will also be on full display at IMEX America, which takes place Oct. 17-19 at the Mandalay Bay Convention Center in Las Vegas.
Photo: Carina Bauer, CEO of IMEX Group, and Ray Bloom, chairman of IMEX Group
Don't miss any event-related news: Sign up for our weekly e-newsletter HERE, listen to our latest podcast HERE and engage with us on Twitter, Facebook and LinkedIn!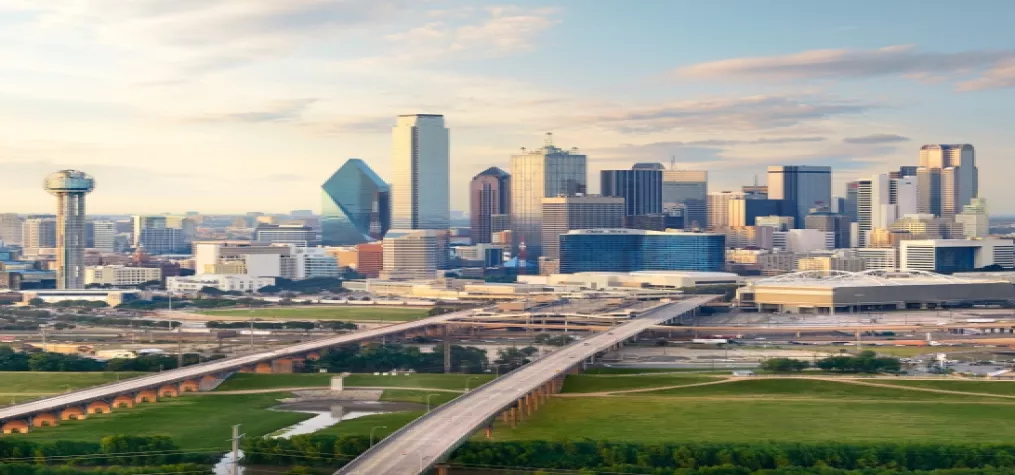 Dallas already boasts 35,000 hotel rooms, award-winning global cuisine, and a walkable downtown. But we are just getting started. Visit Dallas is thrilled to announce that the city of Dallas is doubling down with a massive new convention center and entertainment district. Featuring 800,000 square feet of exhibit area, 260,000 square feet of meeting rooms, and 170,000 square feet of ballroom. The center will connect business travelers with dining and shopping options in the popular Cedars District means more places to get down to business, and even more ways to unwind. "Dallas is already a great meetings and conventions destination, with the accessibility of two major airports, affordable labor, and an outstanding hotel product," said D. Bradley Kent, Visit Dallas senior vice president and chief sales officer. "The new center and Convention Center District will enhance Dallas' competitive position and are exactly what our customers' need and have been asking for." What's New – AT&T Discovery District Located in the heart of Downtown Dallas, this new district on the AT&T corporate campus is tailor-made for groups of all sizes. It boasts a multi-sensory experience, including outdoor event space, the AT&T Theater, and multiple dining outlets including JAXON Beer Garden and The Exchange, a bustling food hall. Hotels Coming Soon Names like the JW Marriott (Downtown), lnterContinental Dallas (Uptown), and Hotel Swexan (Uptown) are adding luxury amenities and bountiful event spaces. The projects will debut in 2023 and beyond. JW Marriott This new, 15-story, 283-room hotel will open in the heart of the city's downtown Arts District this year. The property features a 25,000-square-foot grand ballroom, as well as a spa, restaurant, lobby bar, fitness center, and a rooftop pool deck and bar. InterContinental Dallas  Located in Cityplace Tower in Uptown, InterContinental Dallas will feature sweeping panoramic views of the Dallas skyline. Guests will enjoy spacious, high-end rooms and amenities, including more than 21,000 square feet of event space.   Hotel Swexan Hotel Swexan, a new, 22-story luxury property, is rising in Uptown's Harwood District and will make its mark on the Dallas skyline. Opening this year, it is a sculptural building with cantilevered upper floors, as well as a 75-foot rooftop infinity-edge swimming pool and a hidden underground lounge.