IDG Taps Steve Corrick as Senior Vice President of Events to Further Expand Global Events Portfolio
April 14, 2023
Leading global tech media, data, research and marketing services provider International Data Group (IDG) has tapped Steve Corrick as senior vice president of events for International Data Corporation (IDC) and Foundry, a subsidiary of IDG.
A highly experienced international event leader who has run large event portfolios for UBM, CMP, Canon Communications and Andry Montgomery, Corrick most recently served as CEO Americas for Comexposium Group, France's largest event organizer and owner of 170 B2C and B2B events across 11 market sectors, including food, agriculture, fashion, security, digital, construction, high-tech, optics and transport.
"I'm excited to join the talented team at Foundry and IDC to help drive the continued growth and success of the events business," Corrick said. "With an already strong reputation in the market and a commitment to innovation and excellence, I'm confident that I will be an asset to IDG's already established team to provide our customers with the highest-quality events, driving success and growth for their businesses."
Global Reach

 
Corrick told TSNN he is happy to be working with teams from all over the world. 
"The IDC and Foundry teams have a well-earned reputation for passionate professionalism along with great execution," he said. "What works in Shanghai may or may not work the same way in San Francisco, but the shared learnings from multiple global teams across many brands have the capacity to really accelerate our growth."
In his new role, Corrick will work with IDG's event leaders to expand the company's major syndicated events, leverage joint venture event projects between Foundry IDC and extend IDG's global event footprint into new markets, according to IDG officials. 
"We look forward to Steve accelerating our conference business globally," said Crawford Del Prete, president of IDC. "Under his leadership we will have the opportunity to bring even more tech buyers and sellers together at world class events including our marquee brands such as CIO Summit, DX Summit and Asian Financial Services Congress (AFSC)."
Corrick brings a wealth of strategic event leadership experience to IDG, Inc., including event value development within private equity environments, organic events portfolio development and joint venture builds, event performance expansion through advanced sales and international business expansion.  
"We are delighted to welcome Steve Corrick to our events team to continue our syndicated and custom event expansion in the 35 markets that we operate in," said Danny Phillips, COO of Foundry. "As we expand into new markets and increase the scale of our leading tech events for senior IT decision makers, Steve's experience in leading successful international event portfolios will be pivotal to our goal of offering a seamless, trusted, consistent event experience to our attendees and sponsors wherever they need to network or generate new leads."
Tackling Industry Challenges
Some of the biggest challenges Corrick plans to address in his new role include finding the right blend of content, networking, sponsor/exhibits and special events, along with macro challenges around skill shortages, costs and sustainability. 
"The IDC and Foundry brands have truly unique positions in many markets they serve, and content is demonstrably a major strength," he told TSNN. "It is also built around the companies that have an unparalleled reputation for objectivity and integrity."
He continued, "Then you augment this with a rich foundation of data and analytics that can deliver real value in areas like intent-based buying behavior. A major focus of mine will be to leverage all of this even more and bring this value to the market."
Keys to Success
Corrick got his start in the events industry in the late 1980s working for Andry Montgomery (Montgomery Group) in London on the Personal Computer World Show. 
"From there, the group sent me to California for three months to work on some launches, and I never returned," he said. "Bryan Montgomery once told me the business was simple. You look after your attendees, and in turn that means you have looked after your sponsors/exhibitors, and by doing that, you've taken care of your partners, and that means you as the organizer will succeed."
The Year Ahead
 In the coming year, Corrick said he is excited to keep learning and adapting.
"Of course, in many ways the last few years have shown the consistent need and benefits of meeting in person," he said. "It's also given us a real opportunity to improve that experience."
Don't miss any event-related news: Sign up for our weekly e-newsletter HERE, listen to our latest podcast HERE and engage with us on Twitter, Facebook and LinkedIn!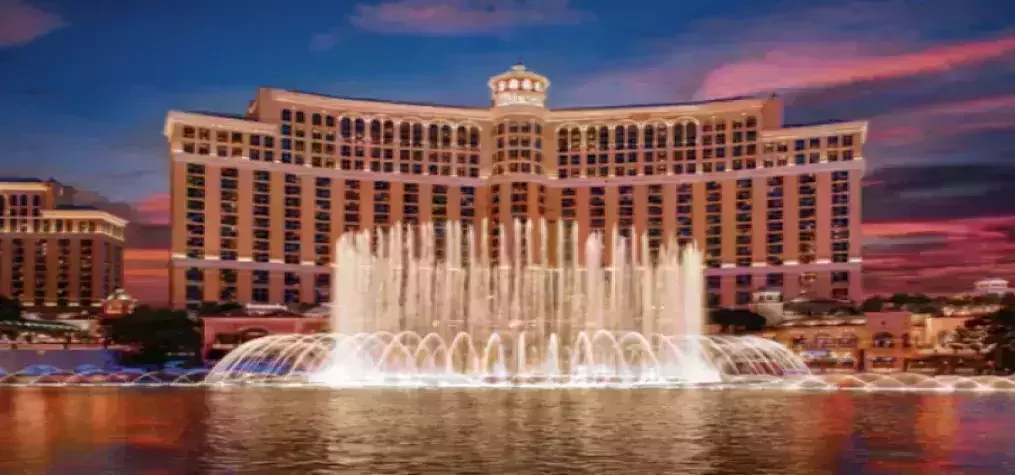 HERE, hosting responsible meetings and caring for our communities are top priorities. Through its 'Focused on What Matters: Embracing Humanity and Protecting the Planet' philosophy, MGM Resorts commits to creating a more sustainable future, while striving to make an impact in the lives of employees, guests, and the communities in which it operates. Water Stewardship Efforts MGM Resorts understands the importance of using water efficiently, especially in the desert destination of Las Vegas. Conserving water has always been part of the mission, but MGM Resorts has expanded its ambition into water stewardship. In 2022, MGM Resorts President and CEO Bill Hornbuckle signed the CEO Water Mandate—a UN Global Compact initiative mobilizing business leaders to advance water stewardship. MGM Resorts International was the first gaming company to take this important step. MGM Resorts replaced 200,000 square feet of real grass with drought-tolerant landscaping in Las Vegas. MGM Resorts pledges to reduce water withdrawal intensity by 33% by 2025 and by 35% by 2030. From 2007-2021, use of more than 5.6 billion gallons of water was avoided because of conservation efforts. Caring for One Another MGM Resorts' Food Donations Program collects and preserves unserved food from conventions held at MGM Resorts properties, then safely donates to food insecure people in the community. Since the program's launch in 2016, more than 3.7 million meals toward a 2025 goal of 5 million meals have been donated into the community. Donations include: Unserved perishable prepared foods from events Perishable unprepared food from MGM Resorts' kitchens Nonperishable food items from minibars and warehouses The collaboration with Southern Nevada's primary food bank, Three Square, has developed the infrastructure needed to safely collect, transport, and store food from MGM Resorts properties in Las Vegas, reducing food waste while serving the community. Fostering Diversity and Inclusion To MGM Resorts, a diverse and talented workforce is essential to success. By cultivating innovative strategies that consider multiple perspectives and viewpoints, the company creates an inclusive workplace culture that benefits its employees and community. MGM Resorts takes pride in being a welcoming home for veterans, individuals with disabilities, people from diverse backgrounds, LGBTQ+ community members, and more. This commitment to inclusion is reflected in the company's recruitment and hiring practices and its social responsibility initiatives. From the workplace to the community, MGM Resorts' commitment to diversity, equity and inclusion remains unwavering, and its efforts continue to create a more equitable and sustainable world for all. MGM Resorts understands its responsibility to contribute to the social and economic progress of the communities in which it operates. HERE, we embrace humanity.