2010 Top 250 Cdn Trade Shows
For a complete 2010 TSNN Top 50 Canadian Trade Shows list that includes contact information please contact Joyce Crisp at jcrisp@tarsus.com 262-782-1900.
TSNN Rank by NSF
Event
Event Date(s)
Venue
1

Organizer: Consumer Electronics Association (CEA) # Exhibitors:2,700 # Attendees:130,000

01/08/2010 to 01/11/2010

Las Vegas Convention Center Las Vegas

NSF: 1,442,000

2

IMTS 2010 - International Manufacturing Technology Show

The International Manufacturing Technology Show is one of the largest industrial trade shows in the world, with thousands of exhibitors and over eighty-five thousand visitors. The event is held every two years in September at McCormick Place, Chicago.

Organizer: AMT # Exhibitors:1,728 # Attendees:82,411

09/14/2010 to 09/19/2010

McCormick Place Complex Chicago

NSF: 1,137,375

3

Pack Expo International/Process Expo/CPP Expo

PACK EXPO International will focus on the latest developments in packaging technology and will showcase exhibitors' state-of-the-art advances in packaging machinery, converting machinery, materials, packages and containers, and components. The most prominent companies in the industry will be exhibiting and making product introductions at the show. PACK EXPO International is a biennial event (every other year) - ideal timing for important industry updates and new product technology.

*11-08*

Organizer: PMMI - Packaging Machinery Manufacturers Institute # Exhibitors:1,835 # Attendees:64,519

11/01/2010 to 11/04/2010

Las Vegas Convention Center Las Vegas

NSF: 1,054,505

4

Organizer: World Market Center # Exhibitors:1,702 # Attendees:0

02/02/2010 to 02/06/2010

World Market Center Las Vegas

NSF: 1,005,943

5

National Business Aviation Association - NBAA 63rd Annual Meeting & Convention

This annual event is the business aviation industry's largest and most efficient annual gathering of buyers and sellers. It often is the only yearly opportunity to do direct, side by side comparisons of nearly every product and service available to company flight departments. It also is far and away the industry's leading venue for new product announcements and introductions.

Organizer: National Business Aviation Association (NBAA) # Exhibitors:1,083 # Attendees:33,000

10/20/2010 to 10/22/2010

Georgia World Congress Center Atlanta

NSF: 917,490

6

International Woodworking Machinery and Furniture Supply Fair USA

IWF is the must attend show for supplies, manufacturing and processing of materials for the woodworking, furniture, cabinetry, flooring, door & window, plastics, solid surfacing, and machine tooling industries. No other show offers access to exhibitors and buyers from all elements of the wood and related material processing industry.

Organizer: The International Woodworking Fair (IWF) # Exhibitors:1,324 # Attendees:21,000

08/26/2010 to 08/29/2010

Georgia World Congress Center Atlanta

NSF: 813,000

7

RECon - The Global Retail Real Estate Convention

RECon is largest worldwide gathering of retail real estate professionals in the world, which Includes; developers, retailers, financial institutions, service providers and governmental agencies.

Organizer: International Council of Shopping Centers # Exhibitors:900 # Attendees:35,000

05/24/2010 to 05/26/2010

Las Vegas Convention Center Las Vegas

NSF: 800,000

9

Organizer: Advanstar Communications Inc. # Exhibitors:1,800 # Attendees:85,000

08/18/2010 to 08/20/2010

Las Vegas Convention Center Las Vegas

NSF: 753,169

10

Organizer: Recreational Vehicle Association RVIA # Exhibitors:394 # Attendees:6,760

11/24/2010 to 11/26/2010

Kentucky Fair & Expo Center Louisville

NSF: 752,101

11

2010 NAB Show

When broadcast and motion picture technologies go digital, the solutions are showcased at one event. When cutting-edge production techniques are traded among professionals from every medium, it's because they've gathered at one destination.

Organizer: National Association of Broadcasters # Exhibitors:1,450 # Attendees:89,000

04/11/2010 to 04/16/2010

Las Vegas Convention Center Las Vegas

NSF: 750,000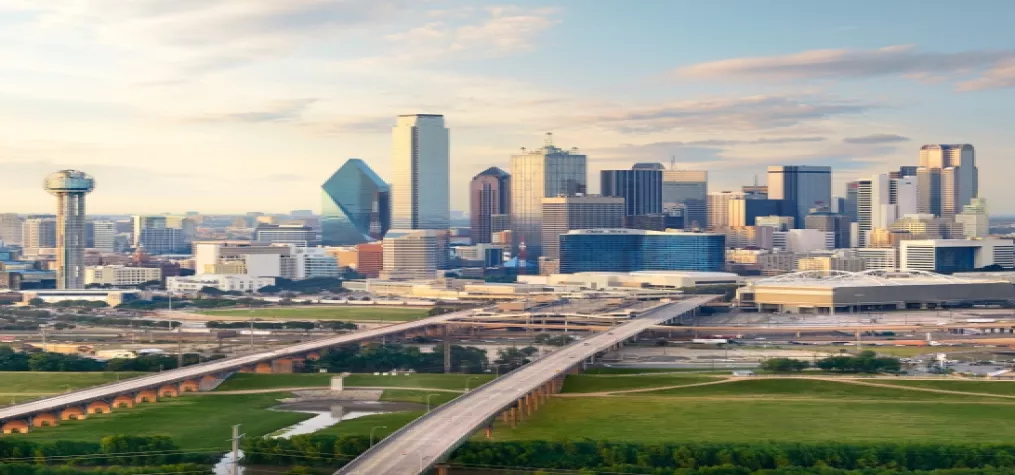 Dallas already boasts 35,000 hotel rooms, award-winning global cuisine, and a walkable downtown. But we are just getting started. Visit Dallas is thrilled to announce that the city of Dallas is doubling down with a massive new convention center and entertainment district. Featuring 800,000 square feet of exhibit area, 260,000 square feet of meeting rooms, and 170,000 square feet of ballroom. The center will connect business travelers with dining and shopping options in the popular Cedars District means more places to get down to business, and even more ways to unwind. "Dallas is already a great meetings and conventions destination, with the accessibility of two major airports, affordable labor, and an outstanding hotel product," said D. Bradley Kent, Visit Dallas senior vice president and chief sales officer. "The new center and Convention Center District will enhance Dallas' competitive position and are exactly what our customers' need and have been asking for." What's New – AT&T Discovery District Located in the heart of Downtown Dallas, this new district on the AT&T corporate campus is tailor-made for groups of all sizes. It boasts a multi-sensory experience, including outdoor event space, the AT&T Theater, and multiple dining outlets including JAXON Beer Garden and The Exchange, a bustling food hall. Hotels Coming Soon Names like the JW Marriott (Downtown), lnterContinental Dallas (Uptown), and Hotel Swexan (Uptown) are adding luxury amenities and bountiful event spaces. The projects will debut in 2023 and beyond. JW Marriott This new, 15-story, 283-room hotel will open in the heart of the city's downtown Arts District this year. The property features a 25,000-square-foot grand ballroom, as well as a spa, restaurant, lobby bar, fitness center, and a rooftop pool deck and bar. InterContinental Dallas  Located in Cityplace Tower in Uptown, InterContinental Dallas will feature sweeping panoramic views of the Dallas skyline. Guests will enjoy spacious, high-end rooms and amenities, including more than 21,000 square feet of event space.   Hotel Swexan Hotel Swexan, a new, 22-story luxury property, is rising in Uptown's Harwood District and will make its mark on the Dallas skyline. Opening this year, it is a sculptural building with cantilevered upper floors, as well as a 75-foot rooftop infinity-edge swimming pool and a hidden underground lounge.