Taste Trends: Caesars Sizzles With Three Fresh Celebrity Chef Restaurants Ideal for Group Dining
April 21, 2023
 Caesars Entertainment, long renowned for its celebrity chef establishments, has further elevated its Las Vegas dining scene with three delectable restaurants by Martha Stewart, Gordon Ramsay and Chris Santos, all of which are available for group bookings.
The recently opened additions join an already impressive list of Caesars Entertainment dining options by top chefs and restaurateurs, including Dominique Ansel, Michael Chow, Giada de Laurentiis, Guy Fieri, Bobby Flay, Nobu Matsuhisa, Gordon Ramsay, Buddy Valastro and Lisa Vanderpump.
The Bedford by Martha Stewart
Global lifestyle icon Martha Stewart has brought delicious recipes and farmhouse charm to Paris Las Vegas with her first restaurant, The Bedford by Martha Stewart. 
"I am so excited because I never dreamed it would be this beautiful and fantastic, and the food so delicious," Stewart said. 
Developed by Stewart and her team of experts, including Thomas Joseph, executive vice president of culinary at Martha Stewart, The Bedford's menu features flavorful dishes from fresh ingredients sourced locally.
"You cannot make a delicious dish — a Martha Stewart recipe — without the very best ingredients, and I'm very fussy about that," Stewart said. "So we've looked for the farmers, the purveyors and the local suppliers who would give us the most beautiful ingredients for all our recipes."
Transporting guests to an authentic dining experience at Martha Stewart's famed country farmhouse, the restaurant boasts French-inspired cuisine and a combination of Martha's favorite recipes.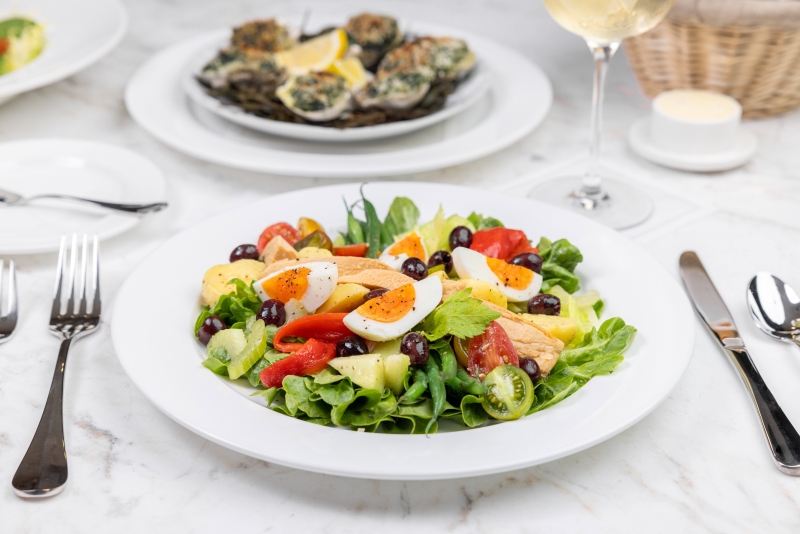 For starters, guests may savor the Classic Niçoise Salad, made with olive oil-packed tuna, haricot verts, vermouth-dressed potatoes, hard-cooked egg and anchovy vinaigrette. Seafood enthusiasts may delight in the Oysters Rockefeller, baked with Pernod cream, spinach and watercress, and finished with a crunchy parsley breadcrumb topping.
 
For the main course, diners can enjoy tableside presentations, which elevate the meal to an interactive culinary journey, including a Whole Roast Herb Chicken, carved tableside, and Martha's Smashed Baked Potato, smashed tableside and served with crème fraiche, chives and bacon lardons, or for those looking to indulge, Golden Osteria caviar. One of Stewart's signature desserts is the Upside-Down Lemon Meringue Pie, which consists of a crisp meringue crust, tart lemon filling and a whipped cream topping.  
 
"These are the same dishes that I serve to family and friends in my own home," Stewart said. "We have worked tirelessly to bring my farmhouse in Bedford, New York to life in Las Vegas, and I think visitors will be enchanted by what we have come up with." 
 
Designed by Stewart herself, along with Kevin Sharkey, executive vice president of home at Martha Stewart, the 194-seat dining destination offers guests an authentic glimpse of how she lives and entertains in her own home, drawing inspiration from her country farmhouse, including an accurate replica of her faux-bois dining room.
"I live on a farm and have lots of farm animals and horses, and I grow my own hay and my own vegetables," Stewart said. "The house is a simple 1925 farmhouse, but the subtlety of the colors and the simple beautiful furniture and antiques are all emulated right here in The Bedford."
Stewart's functional and practical lifestyle takes center stage in her thoughtfully appointed décor, which embraces a neutral, subtle color palette as a perfect backdrop to four seasons of color with simple yet beautiful furniture throughout. Additional elements inside The Bedford include a kitchen space with white marble counters, stainless steel appliances and gray wood cabinets. Hanging copper pans in a variety of sizes from the MARTHA by Martha Stewart collection also adorn the kitchen area.
"We worked really hard — Thomas Joseph on the food, Kevin Sharkey on the furnishings, and me on the design and the food, and I think we have come up with one of the prettiest restaurants in Las Vegas," Stewart said.

The opening of The Bedford by Martha Stewart further establishes Paris Las Vegas as a must-visit culinary destination, according to Jason Gregorec, senior vice president and general manager of Paris Las Vegas.
"Martha Stewart and Marquee Brands are leaders in hospitality that inspire and draw fans from around the world, and we are honored to collaborate with such incredible partners," Gregorec said.
 
Ramsay's Kitchen
Multi-Michelin-starred chef and television personality Gordon Ramsay made his flavorful mark again in Las Vegas with Ramsay's Kitchen at Harrah's Las Vegas.
The restaurant is the famous chef's sixth to open in Las Vegas under the Caesars Entertainment umbrella, and it's a first-of-its-kind dining destination for Ramsay.
"It's really the first time I'm bringing dishes inspired by my travels and restaurants around the world to Vegas," Ramsay said. "They're dishes that I love but of course with a little bit of Vegas pizzazz."
Starter dishes at Ramsay's Kitchen include Tuna Tartare with chili garlic soy, sour cream, avocado and wonton crisps, and Jumbo Lump Crab Cake with citrus herb aioli and frisée salad. Dishes exclusive to the Ramsay's Kitchen at Harrah's Las Vegas menu include Beef Carpaccio with horseradish panna cotta, cured egg yolk, artichoke chips and English mustard sauce; Onion Soup with oxtail brandade, gruyère gratinée and baguette; and Roasted Chicken Breast with herb butter, creamed corn polenta, seasonal mushroom fricassee and chicken jus.
The restaurant also offers Ramsay's signature items, such as Pan Seared Scallops with house-cured pork belly, apricot purée, pomegranate, orange and chicken jus; Beef Wellington with potato purée, glazed baby root vegetables and red wine demi; and Crispy Salmon with purple cauliflower purée, harissa roasted cauliflower and beurre blanc.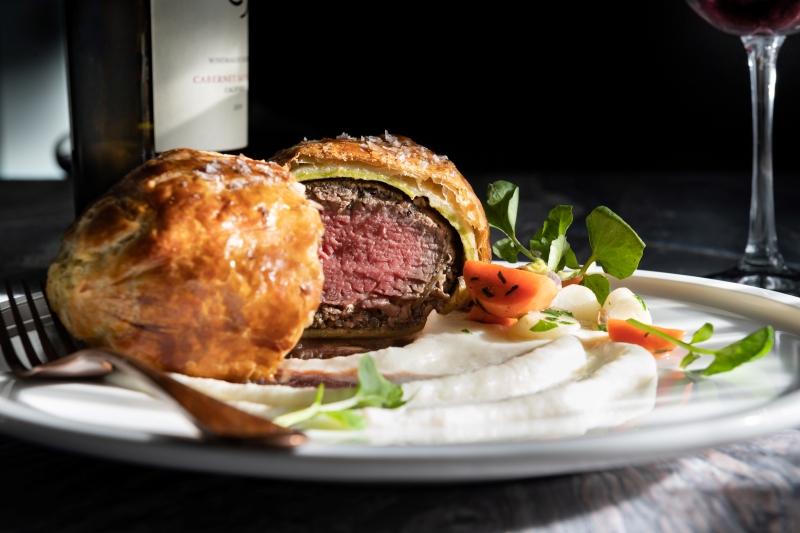 What is Ramsay's favorite dish to prepare for a group? 

"A beef wellington with all the sides," he said. "Prep ahead, cut and serve." 
He is also always on the lookout for the latest culinary trends, one of which he says is a plant-based diet.
"No guest is the same, and with so many walks of life coming to Vegas, you have to make sure you keep everyone happy!" Ramsay said. 
Ramsay's Kitchen was designed by architecture and interior design firm AO. The restaurant seats 244 guests immersed in an ambiance that reflects the celebrated chef's personality with simple yet sophisticated décor. The dining establishment features an open and inviting bar that welcomes guests and sets the tone for the upscale feel of the restaurant. An attention-grabbing focal point is a collection of glass-blown copper-colored pendants that cascade from a reflective ceiling in the main dining area. A theater kitchen and seven-seat seafood counter and raw bar anchor the lower dining area, which features a floor-to-ceiling custom wine display highlighting the vast selection. The space features a three-dimensional art piece made of coasters that depict Ramsay. A private dining room seats 12 and offers a glimpse of the action on the cook line.
Ramsay's Kitchen marks one of the biggest openings in Harrah's history, according to Dan Walsh, senior vice president and general manager of Harrah's Las Vegas.
"Not only are we excited to offer an incredible dining experience to our guests for lunch and dinner, but Ramsay's Kitchen is also a great, convenient option for those attending meetings and events at CAESARS FORUM Conference Center," Walsh said.     
Stanton Social Prime
Tao Group Hospitality and celebrity chef Chris Santos are continuing to redefine the Las Vegas dining scene with Stanton Social Prime at Caesars Palace, which opened March 21.

The restaurant brings Santos' signature shareable dishes to the resort, with the return of the Famous French Onion Soup Dumplings topped with gruyère cheese and garlic croutons, as well as Pierogies made with potato, goat cheese and truffle. New creations include the Smoked Butter Board with Thumbelina crudités, Maldon sea salt flakes and sourdough demi baguette and the Al Pastor Yellowtail Crudo with grilled pineapple, cilantro, lime and pineapple ponzu.

"We have carefully curated dynamic offerings to bring an exciting new energy to Caesars Palace," said Terrence O'Donnell, vice president and assistant general manager of Caesars Palace. "The addition of Stanton Social Prime gives our guests an incredible dining experience while perfectly complementing the recent changes at the resort."

Stanton Social Prime's steaks are a highlight of the menu, seasoned with house dry rub, rested in a bath of beurre de baratte, finished with pink Himalayan salt and served with roasted black garlic. The restaurant offers a large selection of prime dry-aged steaks for the table, including Pretty in Pink, a 10-ounce filet with pink peppercorn sauce, pink oyster mushrooms and decadent sides such as the Dirty Tots with caviar and lobster crème fraîche. Guests can choose from a selection of sauces in vintage perfume bottles to drizzle on their steaks, such as the Eau de Poivre and Chanterelle No. 5.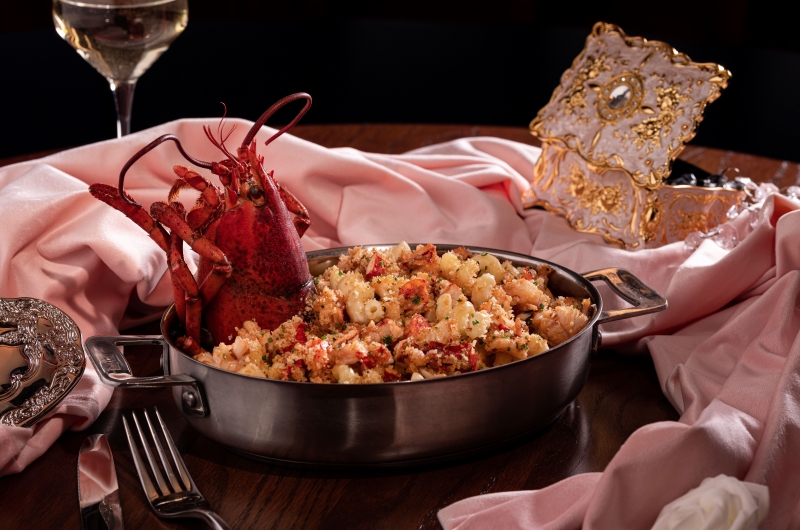 Other standout dishes include Lobster Mac & Cheese with tellegio blend; Whole Grilled Branzino with saffron caramelized fennel and leeks, and rouille; Seared Dayboat Scallops with smoked tomato, orzo, pancetta and butternut squash; and Cast Iron Wild Salmon with roasted garlic cauliflower purée and warm chorizo vinaigrette. Stanton Social Prime also features theatrical tableside presentations, delectable desserts and charming craft cocktails.

"We are thrilled to bring another Tao Group Hospitality concept from Chef Santos to Las Vegas," said Ralph Scamardella, chief culinary officer of Tao Group Hospitality. "The Las Vegas iteration of the Stanton Social in New York City will delight diners with shareable staples complemented by new offerings."

Designed by renowned architecture and design firm Rockwell Group, the 200-seat space draws inspiration from the original restaurant on New York's Lower East Side and the Las Vegas Strip, with a modern nod to Art Deco style and dramatic showmanship. Guests enter Stanton Social Prime through the velvet curtain to the main dining room featuring bold colors of ruby red, sapphire blue and gold with rich textures and patterns found in extravagant costume design. The 10-seat bar spotlights top-shelf spirits and a globe-spanning wine list. Additionally, the two private dining rooms transport guests to their own backstage salon with decorative paneling evocative of a dressing room screen.
Don't miss any event-related news: Sign up for our weekly e-newsletter HERE, listen to our latest podcast HERE and engage with us on Twitter, Facebook and LinkedIn!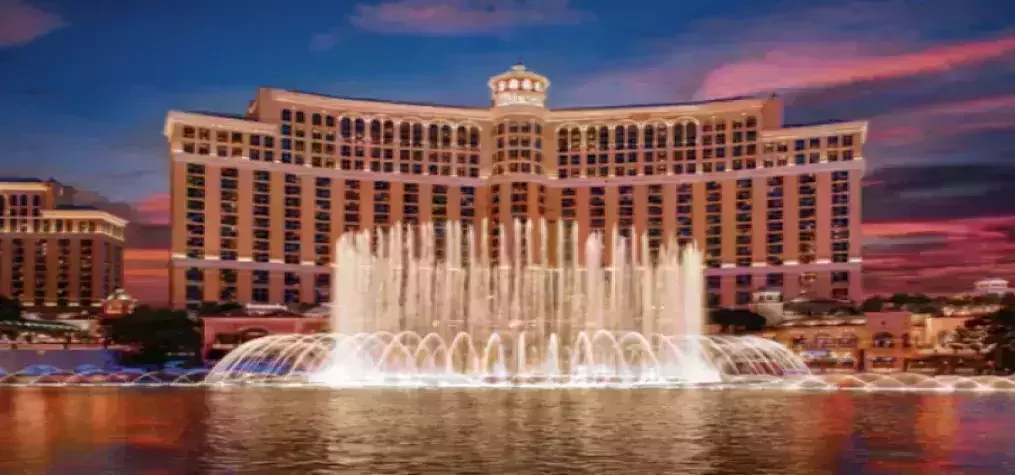 HERE, hosting responsible meetings and caring for our communities are top priorities. Through its 'Focused on What Matters: Embracing Humanity and Protecting the Planet' philosophy, MGM Resorts commits to creating a more sustainable future, while striving to make an impact in the lives of employees, guests, and the communities in which it operates. Water Stewardship Efforts MGM Resorts understands the importance of using water efficiently, especially in the desert destination of Las Vegas. Conserving water has always been part of the mission, but MGM Resorts has expanded its ambition into water stewardship. In 2022, MGM Resorts President and CEO Bill Hornbuckle signed the CEO Water Mandate—a UN Global Compact initiative mobilizing business leaders to advance water stewardship. MGM Resorts International was the first gaming company to take this important step. MGM Resorts replaced 200,000 square feet of real grass with drought-tolerant landscaping in Las Vegas. MGM Resorts pledges to reduce water withdrawal intensity by 33% by 2025 and by 35% by 2030. From 2007-2021, use of more than 5.6 billion gallons of water was avoided because of conservation efforts. Caring for One Another MGM Resorts' Food Donations Program collects and preserves unserved food from conventions held at MGM Resorts properties, then safely donates to food insecure people in the community. Since the program's launch in 2016, more than 3.7 million meals toward a 2025 goal of 5 million meals have been donated into the community. Donations include: Unserved perishable prepared foods from events Perishable unprepared food from MGM Resorts' kitchens Nonperishable food items from minibars and warehouses The collaboration with Southern Nevada's primary food bank, Three Square, has developed the infrastructure needed to safely collect, transport, and store food from MGM Resorts properties in Las Vegas, reducing food waste while serving the community. Fostering Diversity and Inclusion To MGM Resorts, a diverse and talented workforce is essential to success. By cultivating innovative strategies that consider multiple perspectives and viewpoints, the company creates an inclusive workplace culture that benefits its employees and community. MGM Resorts takes pride in being a welcoming home for veterans, individuals with disabilities, people from diverse backgrounds, LGBTQ+ community members, and more. This commitment to inclusion is reflected in the company's recruitment and hiring practices and its social responsibility initiatives. From the workplace to the community, MGM Resorts' commitment to diversity, equity and inclusion remains unwavering, and its efforts continue to create a more equitable and sustainable world for all. MGM Resorts understands its responsibility to contribute to the social and economic progress of the communities in which it operates. HERE, we embrace humanity.