Destinations International Launches Industry's First Equity, Diversity and Inclusion Assessment Tool
August 26, 2022
Destinations International, the world's largest association for official destination organizations and convention and visitors bureaus, unveiled a groundbreaking tool to measure equity, diversity and inclusion (EDI) initiatives and discover ways to improve upon the results. The EDI Assessment Tool is designed to help its member organizations understand how EDI has been incorporated into their operational practices as a basis to elevate and integrate performance, and it is also expected to be a model for other entities in the business events industry to embrace. 
The tool allows users to create intentional EDI goals and track progress in the workplace and the community through data-driven metrics. Organizations have the opportunity to assess workplace dynamics, operations and policies, vendor selection, community engagement and accessibility-related strategies.
Don Welsh, president and CEO of Destinations International, expressed gratitude for his organization's partnership with the National Coalition of Black Meeting Professionals (NCBMP), which sparked the idea to create the groundbreaking tool for the industry.
"We know that many destination organizations understand the value of making sure EDI principles are incorporated into their brand, but we recognize that they might not know where to start," Welsh said. "This important tool will help destination organizations set standard policies, procedures [and metrics to keep track of progress being made in the areas of EDI], and we believe it is a step that other organizations within the business events industry can adopt as well."
The tool aims to create awareness and discussion about EDI strategies for destination organizations of all budget sizes around the globe. Reporting features offer leading practices, median and best practice averages, and filters to anonymously compare a member destination to other peers by budget, geography, tourism asset, sports division and more.
"We have recognized the need for authentic EDI initiatives in our industry and have discussed the need for accountability through measurement and metrics," said Sophia Hyder Hock, chief diversity officer at Destinations International. "This assessment will provide our destination members with the ability to have a baseline understanding about EDI initiatives as it relates to their workplace, policies and operations, vendors, community and accessibility plans."
On a Mission
Under Destinations International's EDI mission, the organization recognizes and advocates the importance of cultivating a unified travel industry where everyone is welcome, where there is equitable access for all, and where it challenges existing power structures so that systemically marginalized voices and perspectives can be heard. The association is committed to transforming destination communities through thought leadership, best practices and tools based on EDI principles through an anti-racist lens that empowers its members so their destinations excel.
From 2019 to 2021, Destinations International reached several milestones that led to the development of the EDI Assessment Tool, including the following.
Launch of first survey to gather workforce diversity demographics
 
Development of common EDI language and vision for 2020
 
Release of first EDI Study on destination organizations
 
Launch of partnership with NCBMP to create a shared advocacy plan with the goal of seeking actions that strive to educate, uplift and unite the hospitality industry in an equitable way
 
Launch of EDI Leadership classes
EDI Assessment Tool in Action
Destination members who take advantage of the tool will sign up and designate employees to be the EDI liaison, fill out and answer the questions on the assessment platform, and pick a results package.
The results include measurement of the organization's score against their median industry range and measurement against Destinations International's best practices range, with the median score dynamically changing based upon filters selected. Results categories include workplace, operations and policies, vendors, community and accessibility.
The tool provides a detailed meaning of the organization's scoring, including whether it is optimizing EDI in its destination, managing EDI in its destination, emerging into a fuller understanding of EDI or aspiring to create a solid EDI foundation.
Based on the organization's results, the tool includes a guide to leading best practices to help elevate EDI initiatives.
Organizations have four reporting tiers to choose from, including:
Basic: Organization scoring analysis across EDI verticals, including comparison to the industry median for each category
 
Standard: Comparison of organization's responses across all EDI assessment questions within each category
 
Advanced: Ability to filter results to see how a member organization compares to a set of peer destinations
 
Premium: 75-minute consultation with Destinations International's chief diversity officer. 
Don't miss any event-related news: Sign up for our weekly e-newsletter HERE, listen to our latest podcast HERE and engage with us on Twitter, Facebook and LinkedIn!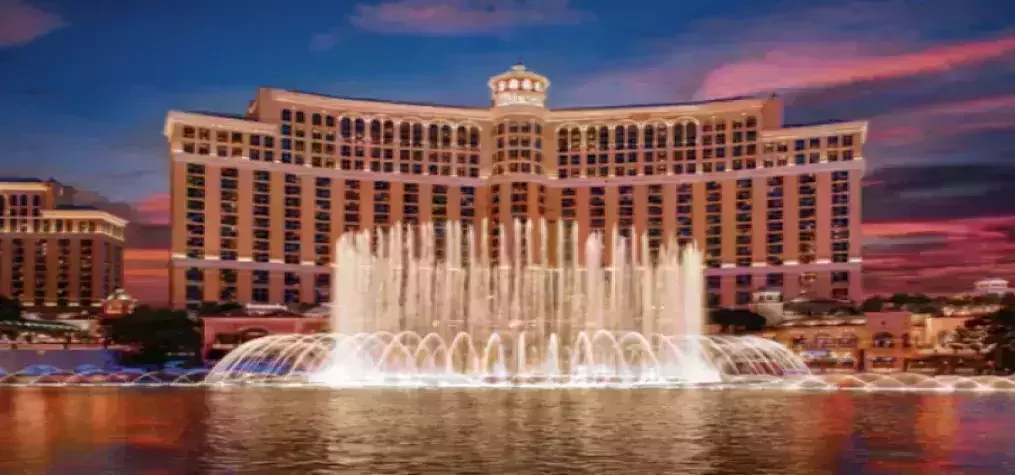 HERE, hosting responsible meetings and caring for our communities are top priorities. Through its 'Focused on What Matters: Embracing Humanity and Protecting the Planet' philosophy, MGM Resorts commits to creating a more sustainable future, while striving to make an impact in the lives of employees, guests, and the communities in which it operates. Water Stewardship Efforts MGM Resorts understands the importance of using water efficiently, especially in the desert destination of Las Vegas. Conserving water has always been part of the mission, but MGM Resorts has expanded its ambition into water stewardship. In 2022, MGM Resorts President and CEO Bill Hornbuckle signed the CEO Water Mandate—a UN Global Compact initiative mobilizing business leaders to advance water stewardship. MGM Resorts International was the first gaming company to take this important step. MGM Resorts replaced 200,000 square feet of real grass with drought-tolerant landscaping in Las Vegas. MGM Resorts pledges to reduce water withdrawal intensity by 33% by 2025 and by 35% by 2030. From 2007-2021, use of more than 5.6 billion gallons of water was avoided because of conservation efforts. Caring for One Another MGM Resorts' Food Donations Program collects and preserves unserved food from conventions held at MGM Resorts properties, then safely donates to food insecure people in the community. Since the program's launch in 2016, more than 3.7 million meals toward a 2025 goal of 5 million meals have been donated into the community. Donations include: Unserved perishable prepared foods from events Perishable unprepared food from MGM Resorts' kitchens Nonperishable food items from minibars and warehouses The collaboration with Southern Nevada's primary food bank, Three Square, has developed the infrastructure needed to safely collect, transport, and store food from MGM Resorts properties in Las Vegas, reducing food waste while serving the community. Fostering Diversity and Inclusion To MGM Resorts, a diverse and talented workforce is essential to success. By cultivating innovative strategies that consider multiple perspectives and viewpoints, the company creates an inclusive workplace culture that benefits its employees and community. MGM Resorts takes pride in being a welcoming home for veterans, individuals with disabilities, people from diverse backgrounds, LGBTQ+ community members, and more. This commitment to inclusion is reflected in the company's recruitment and hiring practices and its social responsibility initiatives. From the workplace to the community, MGM Resorts' commitment to diversity, equity and inclusion remains unwavering, and its efforts continue to create a more equitable and sustainable world for all. MGM Resorts understands its responsibility to contribute to the social and economic progress of the communities in which it operates. HERE, we embrace humanity.