2019 TOP Trade Shows List
The 2019 TSNN Top Trade Show List is exclusively sponsored by Expocad and the Orlando/Orange County Convention Center.

For a complete 2019 TSNN Top Trade Shows list that includes contact information please contact John Rice jrice@tsnn.com.
* Professional attendee figure includes exhibit personnel
TSNN Rank by NSF
Event
Event Date(s)
Venue
21

HIMSS19

Health information and technology event of the year, where professionals throughout the global health ecosystem connect for the education, innovation and collaboration they need to re-imagine health and wellness for everyone, everywhere.

Organizer: Healthcare Information & Management Systems Society (HIMSS) # Exhibitors: 1,328 # Attendees: 17,655

02/11/2019 to 02/15/2019

Orange County Convention Center

NSF: 606,750

22

International Production & Processing Expo (IPPE)

The International Production & Processing Expo (IPPE) is an integrated tradeshow sponsored by U.S. Poultry & Egg Association, North American Meat Institute and American Feed Industry Association. Held annually in Atlanta, Ga, IPPE attracts attendees from across the globe involved in the production and processing of meat, poultry, egg and animal feed products. Exhibitors showcase their latest technology in equipment, services and supplies to supply protein products that feeds the world. 25% of the attendees are International and represent industries from more than 130 countries. 2019 IPPE set records in # exhibitors, net square footage, overall attendance and international attendees.

Organizer: U.S. Poultry & Egg Association, American Feed Industry Association and North American Meat Institute # Exhibitors: 1,426 # Attendees: 32,655*

02/12/2019 to 02/14/2019

Georgia World Congress Center Atlanta

NSF: 594,052

23

IAAPA Expo

IAAPA Expo is the premier conference and trade show for the global attractions industry, including amusement and theme parks, where visitors spend $45.2 billion around the world. International leaders, decision makers, and visionaries within the global attractions industry come to Expo to see the latest innovations, learn from each other, network, and plan for the future.

Organizer: International Association of Amusement Parks & Attractions (IAAPA) # Exhibitors: 1,144 # Attendees: 27,900

11/18/2019 to 11/22/2019

Orange County Convention Center Orlando

NSF: 589,600

24

Natural Products Expo West

Natural Products Expo West/Engredea is the premier trade show for the healthy products and ingredients industry. Co-located with Fresh Ideas Organic Marketplace, these combined events showcase the entire value chain of healthy products from start to finish, identifying the bestsellers of today and the trends of tomorrow. Natural Products Expo West/Engredea is ranked as one of the top 50 shows in the US and one of the fastest 50 growing tradeshows in the US and Canada.

Organizer: Informa Markets # Exhibitors: 3,697 # Attendees: 52,120

03/06/2019 to 03/10/2019

Anaheim Convention Center

NSF: 583,696

25

Offshore Technology Conference

The Offshore Technology Conference (OTC) is where energy professionals meet to exchange ideas and opinions to advance scientific and technical knowledge for offshore resources and environmental matters. Celebrating 50 years since 1969, OTC's flagship conference is held annually at NRG Park (formerly Reliant Park) in Houston. OTC has expanded technically and globally with the Arctic Technology Conference, OTC Brasil, and OTC Asia.OTC is sponsored by 13 industry organizations and societies, who work cooperatively to develop the technical program. OTC also has endorsing and supporting organizations.

Organizer: Offshore Technology Conference # Exhibitors: 2,325 # Attendees: 35,968

05/06/2019 to 05/09/2019

NRG Park

NSF: 564,840

26

National Hardware Show

The National Hardware Show® (NHS) celebrates a rich history spanning 75 years of serving the home improvement marketplace. From its early beginnings in New York during the post-World War 2 housing boom and eventual move to Chicago in the 1970s, to today's current location in Las Vegas, NHS continually evolves through the industry's involvement, commitment and passion to improving quality of life through their homes and beyond. Today, NHS is the place for global manufacturers, associations, organizations and the media to get an unfiltered view of the industry, hands-on experiences, and access to the latest innovations and retail trends to enhance their business.

Organizer: Reed Exhibitions U.S.A. (Norwalk, CT) # Exhibitors: 2,654 # Attendees: 11,125

05/07/2019 to 05/09/2019

Las Vegas Convention Center

NSF: 556,000

27

AAPEX

AAPEX represents the $356 billion global motor vehicle aftermarket. Exhibitors are represented by the manufacturers and suppliers of automotive parts, including products and services purchased for light- and heavy-duty vehicles after the original sale, such as replacement parts, accessories, lubricants, appearance products and service repairs, as well as the tools and equipment necessary to make the repair. Attendees are represented by wholesalers, warehouse distributors, jobbers, retailers, independent service providers, technicians, parts stores, manufacturers representatives, exporters, importers and packagers from the U.S. and 149 countries.

Organizer: William T. Glasgow Inc. # Exhibitors: 2,545 # Attendees: 70,256

11/05/2019 to 11/07/2019

Sands Expo & Convention Center

NSF: 542,800

28

InfoComm

InfoComm is the largest professional audiovisual trade show in North America, with thousands of products for audio, unified communications and collaboration, display, video, control, digital signage, home automation, security, VR, and live events.

Organizer: AVIXA - The Audiovisual and Integrated Experience Association # Exhibitors: 927 # Attendees: 43,230*

06/12/2019 to 06/14/2019

Orange County Convention Center

NSF: 524,339

29

FDIC International (Fire Department Instructors Conference)

FDIC International offers 35,000+ Fire & Rescue professionals from 65+ countries around the world, quality world-class instructors, classrooms, workshops, H.O.T. evolutions and the most innovative products and services available to the industry displayed by over 800 exhibiting companies. The FDIC Experience is more than your traditional trade show it's about the learning and sharing with your peers formally and informally through hallway conversations, developing life-long friendships and recharging your passion for the industry.

Organizer: Clarion Events # Exhibitors: 784 # Attendees: 29,741

04/08/2019 to 04/13/2019

Indiana Convention Center

NSF: 499,175

30

International Air-Conditioning, Heating, Refrigerating Expo - AHR Expo

As the largest and most comprehensive HVACR exposition in the world, the AHR Expo attracts tens of thousands of attendees from all facets of the industry, including contractors, engineers, dealers, distributors, wholesalers, OEMs, architects, builders, industrial plant operators, facility owners and managers, agents and reps.

Organizer: International Exposition Company (IEC) # Exhibitors: 1,824 # Attendees: 27,047

01/14/2019 to 01/16/2019

Georgia World Congress Center

NSF: 493,120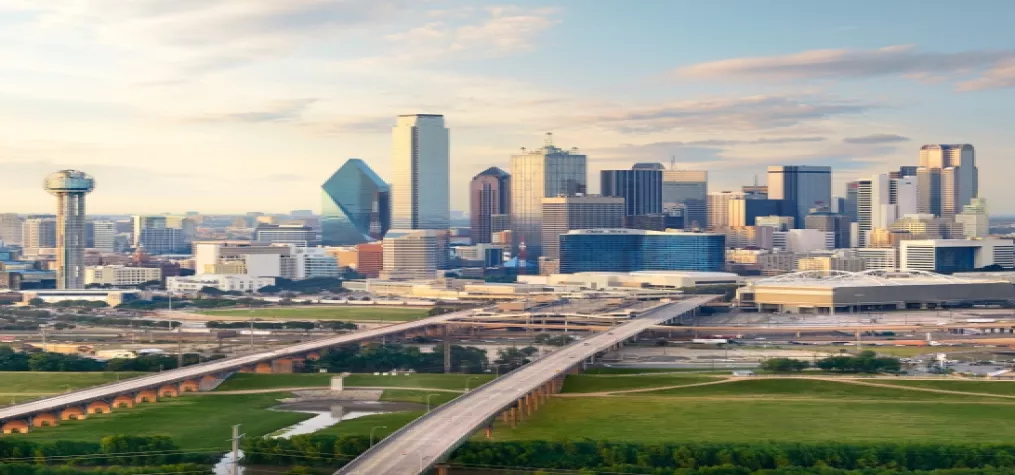 Dallas already boasts 35,000 hotel rooms, award-winning global cuisine, and a walkable downtown. But we are just getting started. Visit Dallas is thrilled to announce that the city of Dallas is doubling down with a massive new convention center and entertainment district. Featuring 800,000 square feet of exhibit area, 260,000 square feet of meeting rooms, and 170,000 square feet of ballroom. The center will connect business travelers with dining and shopping options in the popular Cedars District means more places to get down to business, and even more ways to unwind. "Dallas is already a great meetings and conventions destination, with the accessibility of two major airports, affordable labor, and an outstanding hotel product," said D. Bradley Kent, Visit Dallas senior vice president and chief sales officer. "The new center and Convention Center District will enhance Dallas' competitive position and are exactly what our customers' need and have been asking for." What's New – AT&T Discovery District Located in the heart of Downtown Dallas, this new district on the AT&T corporate campus is tailor-made for groups of all sizes. It boasts a multi-sensory experience, including outdoor event space, the AT&T Theater, and multiple dining outlets including JAXON Beer Garden and The Exchange, a bustling food hall. Hotels Coming Soon Names like the JW Marriott (Downtown), lnterContinental Dallas (Uptown), and Hotel Swexan (Uptown) are adding luxury amenities and bountiful event spaces. The projects will debut in 2023 and beyond. JW Marriott This new, 15-story, 283-room hotel will open in the heart of the city's downtown Arts District this year. The property features a 25,000-square-foot grand ballroom, as well as a spa, restaurant, lobby bar, fitness center, and a rooftop pool deck and bar. InterContinental Dallas  Located in Cityplace Tower in Uptown, InterContinental Dallas will feature sweeping panoramic views of the Dallas skyline. Guests will enjoy spacious, high-end rooms and amenities, including more than 21,000 square feet of event space.   Hotel Swexan Hotel Swexan, a new, 22-story luxury property, is rising in Uptown's Harwood District and will make its mark on the Dallas skyline. Opening this year, it is a sculptural building with cantilevered upper floors, as well as a 75-foot rooftop infinity-edge swimming pool and a hidden underground lounge.