2019 TOP Trade Shows List
The 2019 TSNN Top Trade Show List is exclusively sponsored by Expocad and the Orlando/Orange County Convention Center.

For a complete 2019 TSNN Top Trade Shows list that includes contact information please contact John Rice jrice@tsnn.com.
* Professional attendee figure includes exhibit personnel
TSNN Rank by NSF
Event
Event Date(s)
Venue
1

CES

At the intersection of creativity, passion and ingenuity, CES® inspires the spirit of innovation. More than 4500 exhibitors showcased the latest tech innovations to 175000 attendees across a record-setting 2.9 million nsf of exhibit space in Las Vegas. From global brands to visionary startups these companies set the world abuzz with the promise of technology.

Organizer: Consumer Technology Association # Exhibitors: 4,550 # Attendees: 107,148

01/08/2019 to 01/11/2019

Las Vegas Convention Center/Sands Expo & Convention Center/Various Hotels

NSF: 2,930,421

2

ICUEE - The Intl. Construction & Utility Equipment Exposition

ICUEE is the utility industry's largest trade show, covering 30+ acres of indoor and outdoor exhibits, and bringing together more than 19,000 utility professionals every two years. Exhibitors include construction and utility equipment manufacturers as well as technology and service providers to the utility and construction market.

Organizer: Association of Equipment Manufacturers (AEM) # Exhibitors: 1,017 # Attendees: 11,458

10/01/2019 to 10/03/2019

Kentucky Exposition Center

NSF: 1,340,749

3

Florida RV SuperShow

Exhibitors are representatives from the recreational vehicle industry, including manufacturers, camping destinations, tourism, aftermarket accessories, insurance, finance and custom enhancements, as well as collision and repair companies.

Organizer: Florida RV Trade Association # Exhibitors: 340 # Attendees: 1,100

01/15/2019 to 01/20/2019

Florida State Fairgrounds

NSF: 1,219,591

4

SEMA 2019 Show (Specialty Equipment Market Association)

The SEMA Show is the premier automotive specialty products trade event in the world. It draws the industry's brightest minds and hottest products to one place, the Las Vegas Convention Center. As part of the Automotive Aftermarket Industry Week, the SEMA Show attracts more than 160,000 industry leaders from over 130 countries for unlimited profit opportunities in the automotive, truck and SUV, powersports and RV markets.

Organizer: Specialty Equipment Market Association # Exhibitors: 2,400 # Attendees: 161,829*

11/05/2019 to 11/08/2019

Las Vegas Convention Center

NSF: 1,181,000

5

America's Largest RV Show

America's Largest RV Show is a hybrid show with the first two days dedicated to the industry and the last 5 open to consumers. Industry days allow dealers and campgrounds to view the latest RV models as well as participate in industry training. Consumer days allow the public to shop and compare RVs from every major manufacturer as well as the latest accessories and camping supplies.

Organizer: Pennsylvania RV & Camping Assn. # Exhibitors: 210 # Attendees: 1,498

09/09/2019 to 09/15/2019

Giant Center

NSF: 1,056,068

6

2019 NBAA Business Aviation Convention & Exhibition (NBAA-BACE)

NBAA's 2019 Business Aviation Convention & Exhibition (NBAA-BACE) was a huge success, drawing in nearly 25k attendees from around the world to Las Vegas, NV. NBAA-BACE is the annual opportunity for key aviation contacts to come together to collaborate & network in one place to get critical work within the industry accomplished. Key highlights at this years' event included a dynamic display of unmanned aircraft systems (UAS) and urban air mobility (UAM) vehicles, a focus on sustainability in business aviation and how to retain and attack the next generation workforce. Key aviation contacts include current and prospective business aircraft owners, manufacturers, product and service providers, all levels of flight department personnel, as well as students and Young Professionals (YoPros).

Organizer: National Business Aviation Association (NBAA) # Exhibitors: 970 # Attendees: 24,823*

10/22/2019 to 10/24/2019

Las Vegas Convention Center

NSF: 965,700

7

GIE+EXPO (Green Industry & Equipment Expo)

GIE+EXPO is the industry's largest showcase for outdoor power equipment distributed through dealers, retailers and distributors for consumer, professional and rental use. The show features lawn and garden products and outdoor leisure items distributed through home centers, dealers and retailers as well as light construction and landscape equipment used by general contractors, landscapers, golf course superintendents, municipalities and parks, and recreation crews.

Organizer: Sellers Expositions # Exhibitors: 865 # Attendees: 18,231

10/10/2019 to 10/18/2019

Kentucky Exposition Center

NSF: 953,698

8

NAB Show

NAB Show is the world's largest event encompassing The M.E.T. Effect, the convergence of media, entertainment and technology. With 103,000 attendees from 161 countries and 1,800+ exhibitors, NAB Show is the ultimate marketplace for solutions that transcend traditional broadcasting and embrace content delivery to new screens in new ways. From creation to consumption, across multiple platforms and countless nationalities, NAB Show is where global visionaries convene to bring content to life.

Organizer: National Association of Broadcasters # Exhibitors: 1,632 # Attendees: 40,111

04/06/2019 to 04/11/2019

Las Vegas Convention Center Las Vegas

NSF: 924,876

9

PACK EXPO Las Vegas and Healthcare Packaging EXPO

PACK EXPO Las Vegas brings together end users and suppliers from virtually all packaged goods industries for three days that will powered innovation in packaging. It is the largest packaging event of the year.

Organizer: PMMI - The Association for Packing and Processing Technologies # Exhibitors: 2,015 # Attendees: 31,007

09/23/2019 to 09/25/2019

Las Vegas Convention Center

NSF: 889,599

10

FABTECH

FABTECH is North America's largest metal forming, fabricating, welding and finishing event. FABTECH provides a convenient 'one-stop shop' venue where you can meet with world-class suppliers, see the latest industry products and developments, and find the tools to improve productivity, increase profits and discover new solutions to all of your metal forming, fabricating, welding and finishing needs.

Organizer: AWS/CCAI/FMA/PMA/SME # Exhibitors: 1,696 # Attendees: 48,828*

11/11/2019 to 11/14/2019

McCormick Place

NSF: 815,455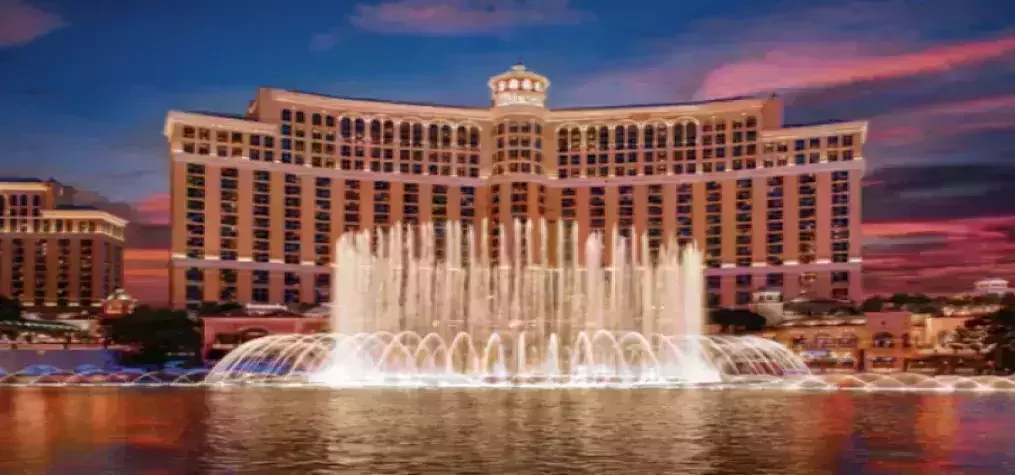 HERE, hosting responsible meetings and caring for our communities are top priorities. Through its 'Focused on What Matters: Embracing Humanity and Protecting the Planet' philosophy, MGM Resorts commits to creating a more sustainable future, while striving to make an impact in the lives of employees, guests, and the communities in which it operates. Water Stewardship Efforts MGM Resorts understands the importance of using water efficiently, especially in the desert destination of Las Vegas. Conserving water has always been part of the mission, but MGM Resorts has expanded its ambition into water stewardship. In 2022, MGM Resorts President and CEO Bill Hornbuckle signed the CEO Water Mandate—a UN Global Compact initiative mobilizing business leaders to advance water stewardship. MGM Resorts International was the first gaming company to take this important step. MGM Resorts replaced 200,000 square feet of real grass with drought-tolerant landscaping in Las Vegas. MGM Resorts pledges to reduce water withdrawal intensity by 33% by 2025 and by 35% by 2030. From 2007-2021, use of more than 5.6 billion gallons of water was avoided because of conservation efforts. Caring for One Another MGM Resorts' Food Donations Program collects and preserves unserved food from conventions held at MGM Resorts properties, then safely donates to food insecure people in the community. Since the program's launch in 2016, more than 3.7 million meals toward a 2025 goal of 5 million meals have been donated into the community. Donations include: Unserved perishable prepared foods from events Perishable unprepared food from MGM Resorts' kitchens Nonperishable food items from minibars and warehouses The collaboration with Southern Nevada's primary food bank, Three Square, has developed the infrastructure needed to safely collect, transport, and store food from MGM Resorts properties in Las Vegas, reducing food waste while serving the community. Fostering Diversity and Inclusion To MGM Resorts, a diverse and talented workforce is essential to success. By cultivating innovative strategies that consider multiple perspectives and viewpoints, the company creates an inclusive workplace culture that benefits its employees and community. MGM Resorts takes pride in being a welcoming home for veterans, individuals with disabilities, people from diverse backgrounds, LGBTQ+ community members, and more. This commitment to inclusion is reflected in the company's recruitment and hiring practices and its social responsibility initiatives. From the workplace to the community, MGM Resorts' commitment to diversity, equity and inclusion remains unwavering, and its efforts continue to create a more equitable and sustainable world for all. MGM Resorts understands its responsibility to contribute to the social and economic progress of the communities in which it operates. HERE, we embrace humanity.