Trade Show Tech Trends to Look Out for In 2019
January 15, 2019
Event professionals at trade shows and exhibitions expect a display of seamless integration of the latest event tech. Event tech trends have evolved at a rapid pace continually in the past few years, creating ways for the new tech to accommodate in the events industry. 
The events industry welcomes the dynamic and new elements of surprise that raise the attendee engagement at exhibitions.
"Around 80 percent of planners embed a tech requirement in their initial request, but with a growing understanding of technology's role in delegate management, feedback and ROI, that figure is rapidly rising," says CWT Meetings and Events Commercial Director Chris Goundrill.
Let's look at some of the tech trends that are definitely going to be the center of the stage at upcoming events in 2019.
1. Do more than fly with drones.
While everybody is cheering the drone companies for their impeccable services to drop off food and beverages to certain locations, drones tech has been used and will continue to soar and rise high with its efficient capture of events. 
Tech heads are trying to make drones more useful. Instead of just using them as a photo/video capture flying machine, numerous options like mobile hotspots can be also provided using drones (Wi-Fi connection issues have been majorly received by event organizers in corporate events and exhibitions). The camera-attached drones can also take care of the event security at low grounds and look out for attendees in a security breach.
2. Personalized tech
Artificial Intelligence infusion in the event tech products has proven efficient and effective in increasing the event ROI. Automated technologies simplifying the event planner's and event organizer's task is always appreciated in the event industry. Personalized chatbots can even now send personalized messages and push notifications. The seamless and streamlined process can be now be managed using personalized tech assistants and experiences.
3. Smart use of facial recognition tech
Facial Recognition software took a sudden upsurge when it entered the market. Not only did it have benefits that could ease several manual processes but it also was used efficiently at an event where event attendees' social media posts were brought into attention. 
Face Recognition technology at trade shows and exhibitions ensure fast and better check-ins at the event venue. You can even maximize your audience coverage and reach on social media using face recognition software and tools which will enable in tagging the people from events.
Facial recognition can seem to be quite beneficial from the perspective of event security, as well. Event organizers can easily detect the people who are not in the attendee or speaker list on the event premises.
4. Voice over text
According to a research study that was conducted last year, it was observed that 2 in 5 people are now googling using voice search instead of text. This rate may increase in the coming years. Voice is the future. Creating and embedding tech with voice search enabled will for sure increase the attendee engagement at any event. Leverage voice assistants like Google assistant and Siri to code and create scenarios for attendees. 
Don't miss any event news! Sign up for any (or all) of our e-newsletters HERE & engage with us on Twitter, Facebook, LinkedIn & Instagram!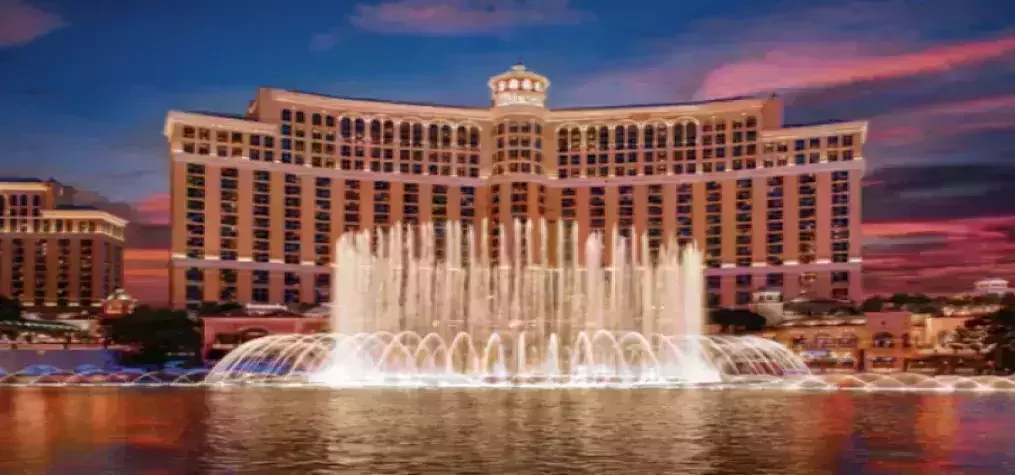 HERE, hosting responsible meetings and caring for our communities are top priorities. Through its 'Focused on What Matters: Embracing Humanity and Protecting the Planet' philosophy, MGM Resorts commits to creating a more sustainable future, while striving to make an impact in the lives of employees, guests, and the communities in which it operates. Water Stewardship Efforts MGM Resorts understands the importance of using water efficiently, especially in the desert destination of Las Vegas. Conserving water has always been part of the mission, but MGM Resorts has expanded its ambition into water stewardship. In 2022, MGM Resorts President and CEO Bill Hornbuckle signed the CEO Water Mandate—a UN Global Compact initiative mobilizing business leaders to advance water stewardship. MGM Resorts International was the first gaming company to take this important step. MGM Resorts replaced 200,000 square feet of real grass with drought-tolerant landscaping in Las Vegas. MGM Resorts pledges to reduce water withdrawal intensity by 33% by 2025 and by 35% by 2030. From 2007-2021, use of more than 5.6 billion gallons of water was avoided because of conservation efforts. Caring for One Another MGM Resorts' Food Donations Program collects and preserves unserved food from conventions held at MGM Resorts properties, then safely donates to food insecure people in the community. Since the program's launch in 2016, more than 3.7 million meals toward a 2025 goal of 5 million meals have been donated into the community. Donations include: Unserved perishable prepared foods from events Perishable unprepared food from MGM Resorts' kitchens Nonperishable food items from minibars and warehouses The collaboration with Southern Nevada's primary food bank, Three Square, has developed the infrastructure needed to safely collect, transport, and store food from MGM Resorts properties in Las Vegas, reducing food waste while serving the community. Fostering Diversity and Inclusion To MGM Resorts, a diverse and talented workforce is essential to success. By cultivating innovative strategies that consider multiple perspectives and viewpoints, the company creates an inclusive workplace culture that benefits its employees and community. MGM Resorts takes pride in being a welcoming home for veterans, individuals with disabilities, people from diverse backgrounds, LGBTQ+ community members, and more. This commitment to inclusion is reflected in the company's recruitment and hiring practices and its social responsibility initiatives. From the workplace to the community, MGM Resorts' commitment to diversity, equity and inclusion remains unwavering, and its efforts continue to create a more equitable and sustainable world for all. MGM Resorts understands its responsibility to contribute to the social and economic progress of the communities in which it operates. HERE, we embrace humanity.