Four Ways to Make Your Hybrid Thought Leadership Event a Success
September 30, 2021
Thought leadership is a big part of many organizations' communications strategies. In fact, LinkedIn's 2020 B2B Thought Leadership Impact Study found that 48% of survey respondents spent at least an hour a week consuming thought leadership content. 
Running a thought leadership event is an innovative way for companies to lead the discussion topics of their industries. However, despite live events now being firmly back on the agenda, many people are still hesitant or unable to get back to in-person gatherings. 
Hybrid events, which incorporate both in-person and virtual elements, provide an alternative way for audiences to participate in a business' thought leadership event, no matter where they are, and offer the best of both worlds for companies wanting to achieve the biggest reach possible with their thought leadership content. 
As with anything, if your company is going to take a thought leadership event "hybrid" and make it a success, there are some important things to consider. 
Here are four ways to ensure your hybrid thought leadership event truly delivers. 
1.

   

Offer a different perspective on the topic.
Once you have determined what the subject of your hybrid thought leadership event will be, the next step is to find compelling speakers within your organization who can offer insights that people won't be able to find anywhere else.
It can help to begin by looking at your competitors and brainstorming questions that your audiences may have for your speakers, and using your company leaders' combined experience in the industry to guide your content. 
Running surveys and polls on social media during the planning stages of your event is another useful way to get an accurate picture of the challenges your customers are facing, and which issues will make the most interesting discussion points. 
Making sure your thought leadership content incorporates unique industry analysis, personal anecdotes and experiences and data that is exclusive to your event will ensure your attendees, both physical and virtual, take away maximum value. 
2.

   

Involve your audience as much as possible.
Audience engagement is crucial to the success of any hybrid event but, arguably, should be even more of a priority for thought leadership events, where audiences are there to learn and ask questions. 
Without careful planning and execution, virtual audiences can easily be left behind, and if your virtual attendees aren't offered ways to engage directly with your event and speakers, they are unlikely to be drawn back to subsequent events in the future. 
There is no reason why virtual attendees should miss out on the full event experience. Running live Q&As and polls during the event is a guaranteed way to maximize audience engagement, while offering live session chat during thought leadership discussions can enable attendees to join in real-time or share their comments later when watching event replays. 
3.

   

Remember: Content is king.
When it comes to hybrid events, content is the single most important consideration that will make or break your success. Without ensuring the content and agenda of your event is compelling, you risk losing the interest and attention of your online audience to the many distractions that come with joining an event from home or the office.
You should consider both audiences and how they are consuming the same information. For example, if using emotive storytelling through film and animation, you may want to play one out live on-screen for physical attendees, while playing the other directly to virtual attendees. 
It's also important to think about content for breaks and intervals. Will you offer the same or different activities for those in the virtual space? 
By taking the time to ensure your content is powerful and valuable to engage attendees, you can create a truly successful hybrid thought leadership event that delivers real value to your business. 
4.

   

Take advantage of hybrid events technology.
Last but by no means least, for your event to thrive you need to ensure you have feature-rich and reliable hybrid events software in place. This helps to create a more immersive experience for virtual attendees and will enable them to actively participate in and contribute to interactive sessions with speakers, instead of merely logging into a live stream of the event. 
Be sure to research carefully and partner with the best software provider who will be able to identify ways to ensure better levels of engagement, interaction and overall attendee satisfaction. 
By investing in the best technology, you may even encourage virtual attendees to join your future events in person. 
Conclusion
Running a hybrid thought leadership event can be powerful in that it allows you to showcase experts at your company and is a great opportunity for physical and virtual audiences to come together and sharpen their expertise while establishing your brand as a leader in your industry. 
By following the above advice, you can ensure your event reaches and engages the widest audience possible, while providing attendees with genuine insight that delivers real impact regardless of how they attend. 

Don't miss any event-related news: Sign up for our weekly e-newsletter HERE and engage with us on Twitter, Facebook, LinkedIn and Instagram!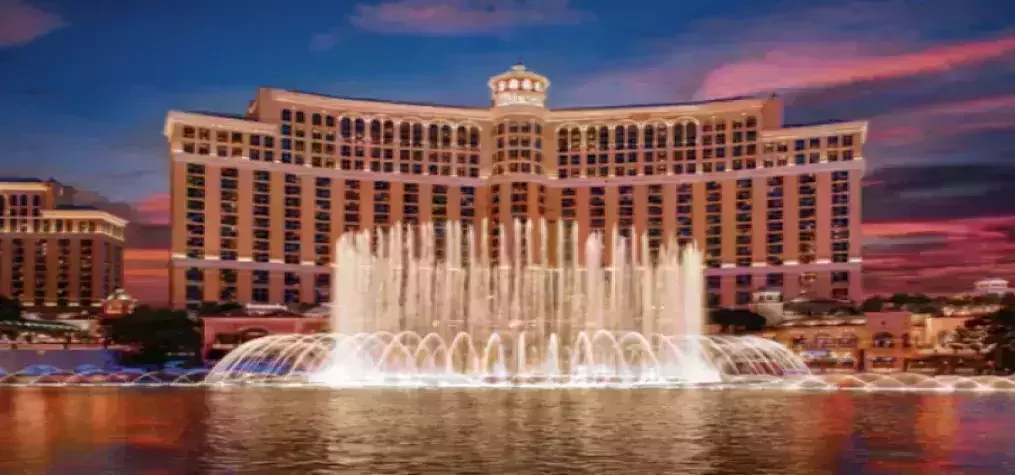 HERE, hosting responsible meetings and caring for our communities are top priorities. Through its 'Focused on What Matters: Embracing Humanity and Protecting the Planet' philosophy, MGM Resorts commits to creating a more sustainable future, while striving to make an impact in the lives of employees, guests, and the communities in which it operates. Water Stewardship Efforts MGM Resorts understands the importance of using water efficiently, especially in the desert destination of Las Vegas. Conserving water has always been part of the mission, but MGM Resorts has expanded its ambition into water stewardship. In 2022, MGM Resorts President and CEO Bill Hornbuckle signed the CEO Water Mandate—a UN Global Compact initiative mobilizing business leaders to advance water stewardship. MGM Resorts International was the first gaming company to take this important step. MGM Resorts replaced 200,000 square feet of real grass with drought-tolerant landscaping in Las Vegas. MGM Resorts pledges to reduce water withdrawal intensity by 33% by 2025 and by 35% by 2030. From 2007-2021, use of more than 5.6 billion gallons of water was avoided because of conservation efforts. Caring for One Another MGM Resorts' Food Donations Program collects and preserves unserved food from conventions held at MGM Resorts properties, then safely donates to food insecure people in the community. Since the program's launch in 2016, more than 3.7 million meals toward a 2025 goal of 5 million meals have been donated into the community. Donations include: Unserved perishable prepared foods from events Perishable unprepared food from MGM Resorts' kitchens Nonperishable food items from minibars and warehouses The collaboration with Southern Nevada's primary food bank, Three Square, has developed the infrastructure needed to safely collect, transport, and store food from MGM Resorts properties in Las Vegas, reducing food waste while serving the community. Fostering Diversity and Inclusion To MGM Resorts, a diverse and talented workforce is essential to success. By cultivating innovative strategies that consider multiple perspectives and viewpoints, the company creates an inclusive workplace culture that benefits its employees and community. MGM Resorts takes pride in being a welcoming home for veterans, individuals with disabilities, people from diverse backgrounds, LGBTQ+ community members, and more. This commitment to inclusion is reflected in the company's recruitment and hiring practices and its social responsibility initiatives. From the workplace to the community, MGM Resorts' commitment to diversity, equity and inclusion remains unwavering, and its efforts continue to create a more equitable and sustainable world for all. MGM Resorts understands its responsibility to contribute to the social and economic progress of the communities in which it operates. HERE, we embrace humanity.