Enhance the Attendee Experience With Meeting Booking Technology
January 23, 2020
Business conferences and live events are a booming sector, with demand growing and growth showing no signs of slowing down. In fact, consulting firm AMR International predicts that the U.S. exhibition market will grow 3.5 percent through 2022. 
With growth comes competition among event organizers to bring attendees the best, most seamless digital experience. As event organizers aim to provide the most cutting-edge customer experience, many are turning to technology to enhance even the most mundane tasks. According to a survey by Bizzabo, 86 percent of event marketers believe that technology plays a role in the success of an event.
Integrating simple technology updates to a B2B exhibition can make even the most mundane event exciting. Organizers are turning to technologies including mobile apps, RFID, livestreaming and real-time data-gathering to enhance every aspect of their events, from the check-in process to the wrap-up survey. 
Meeting booking software is another way technology is optimizing the event experience. By using meeting booking devices and software platforms to simplify room organization, reservation processes and venue navigation, event organizers are recognizing that digital meeting room technology can optimize any conference experience.  
Of the three main uses for meeting booking technology, venue navigation is of utmost importance and something that planners cannot afford to skimp on – if attendees do not know how to get to their next meeting, or a presenter goes to the wrong room, chaos could ensue. The digital display used in meeting booking technology eliminates confusion by communicating session or meeting details at room or venue entrances and automatically updating. Frame-like digital signage positioned outside a meeting or session venue provides information on the session topic, speaker and duration as well as detailed overviews of all the meetings scheduled in the room. 
Meeting booking technologies can also enhance attendee engagement through automated communications. They can send attendees a welcome email, session reminders with key information, directions to the conference hall or meeting room, and contact information for questions or assistance.
Mobile apps have also enhanced the conference attendee experience and can integrate meeting booking technology. Recognizing that mobile phones are the go-to device for all information, event organizers are integrating mobile apps into all aspects of the attendee experience. If a meeting booking system also has a compatible app, organizers can automatically assign rooms, send out invites and manage meeting scheduling from any mobile device. 
Mobile meeting apps can also provide notification features that let participants know exactly when, where and for how long a meeting or conference session will take place, helping attendees get where they need to go in the most efficient manner possible. 
As the conference, trade show and events industry continues to grow, organizers are using technology to provide enhanced digital experiences. Organizers are integrating a wide range of technologies, including meeting room booking solutions, to deliver on these expectations, improve the attendee experience and successfully manage their events.
Don't miss any event-related news: Sign up for our weekly e-newsletter HERE and engage with us on Twitter, Facebook, LinkedIn and Instagram!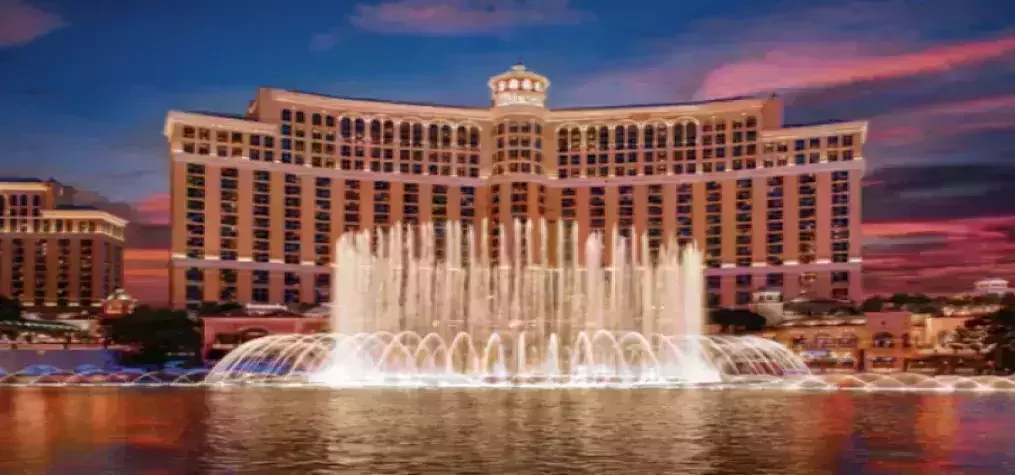 HERE, hosting responsible meetings and caring for our communities are top priorities. Through its 'Focused on What Matters: Embracing Humanity and Protecting the Planet' philosophy, MGM Resorts commits to creating a more sustainable future, while striving to make an impact in the lives of employees, guests, and the communities in which it operates. Water Stewardship Efforts MGM Resorts understands the importance of using water efficiently, especially in the desert destination of Las Vegas. Conserving water has always been part of the mission, but MGM Resorts has expanded its ambition into water stewardship. In 2022, MGM Resorts President and CEO Bill Hornbuckle signed the CEO Water Mandate—a UN Global Compact initiative mobilizing business leaders to advance water stewardship. MGM Resorts International was the first gaming company to take this important step. MGM Resorts replaced 200,000 square feet of real grass with drought-tolerant landscaping in Las Vegas. MGM Resorts pledges to reduce water withdrawal intensity by 33% by 2025 and by 35% by 2030. From 2007-2021, use of more than 5.6 billion gallons of water was avoided because of conservation efforts. Caring for One Another MGM Resorts' Food Donations Program collects and preserves unserved food from conventions held at MGM Resorts properties, then safely donates to food insecure people in the community. Since the program's launch in 2016, more than 3.7 million meals toward a 2025 goal of 5 million meals have been donated into the community. Donations include: Unserved perishable prepared foods from events Perishable unprepared food from MGM Resorts' kitchens Nonperishable food items from minibars and warehouses The collaboration with Southern Nevada's primary food bank, Three Square, has developed the infrastructure needed to safely collect, transport, and store food from MGM Resorts properties in Las Vegas, reducing food waste while serving the community. Fostering Diversity and Inclusion To MGM Resorts, a diverse and talented workforce is essential to success. By cultivating innovative strategies that consider multiple perspectives and viewpoints, the company creates an inclusive workplace culture that benefits its employees and community. MGM Resorts takes pride in being a welcoming home for veterans, individuals with disabilities, people from diverse backgrounds, LGBTQ+ community members, and more. This commitment to inclusion is reflected in the company's recruitment and hiring practices and its social responsibility initiatives. From the workplace to the community, MGM Resorts' commitment to diversity, equity and inclusion remains unwavering, and its efforts continue to create a more equitable and sustainable world for all. MGM Resorts understands its responsibility to contribute to the social and economic progress of the communities in which it operates. HERE, we embrace humanity.