Design Your Trade Show Exhibit for the 4th Dimension
November 28, 2011
Exhibit designers make a big deal about how trade show exhibits are 3-D – they have length, width and height. That 3-D perspective creates much greater visual impact than 2-D marketing mediums.
Yet, exhibits are actually 4-D, the 4th dimension being time. We exist in three spatial dimensions and in one temporal dimension, which combine to be called spacetime.
During a trade show, your static 3-D exhibit can be transformed into an interactive 4-D exhibit attendees experience through the activities you host in your exhibit. 4-D trade show exhibits create greater impact than a 3-D exhibit that looks the same during the show as during non-show hours.
Here are seven ideas to transform your exhibit into a 4-D, marketing time machine:
1) Demos According to research from CEIR, demonstrations are one of the most effective at-show activities you can do to make your exhibit memorable. Demos create movement and get attendees involved with your products and services. The best demos help make explicit the advantages of your products, and give attendees irrefutable visual and experiential proof of your claims.
2) Presentations When you host a presentation in your trade show booth, it signifies to attendees that there's something special about to happen. It's a bit of the "show" aspect of trade shows, with a professional presenter, backdrop and amplified sound. Attendees know they'll get a concise, informative and maybe even entertaining few minutes that will allow them to get valuable info, without having to commit to declaring themselves a prospect. You can schedule presentations as often as every 10 minutes and pull in crowds to hear what you've got to say.
3) Meetings This is the pinnacle of planned activities you can do in your booth – previously scheduled meetings with clients and key prospects. It guarantees you activity throughout the show and creates visual interest, as nothing attracts a crowd like a crowd. Have a person onsite who is the master of the schedule, and keep track of attendees who don't show up on time, so you can call them and try to reschedule.
4) Entertainers You can hire entertainers, such as magicians, dancers, celebrities and more to get attendees to stop – and stay – in your booth. Entertainers create motion and intrigue to lure in attendees. The better ones know how to weave your marketing messages into their entertainment to help convert attention into action.
5) Contests and games Immerse attendees in a fun activity. Go beyond a generic putting green and make it an interactive game that reinforces your marketing message and creates an emotional connection with your brand. At one show, we gave attendees the chance to win 2-foot-long remote control semi-trucks emblazoned with our marketing messages (such as lower shipping costs), by competing in time trials. We had a line all show long, and staffers were able to qualify attendees while they waited for their turn.
6) Audio/Visual Technology The use of AV has increased as the price of flat screens and high-powered projectors has decreased. Short, energetic videos help you compete for attendee's attention. They can quickly state your competitive advantage or help prove your claims. But don't ask video to do too much – you still need to rely on your booth staffers to have real conversations!
7) Moving exhibit Your actual trade show exhibit can be the 4-D element in your booth when the exhibit itself moves! Larger island exhibits will sometimes have a rotating hanging sign above it to signal your company's location from a far. Movement catches the eye, so a rotating sign gets attention long before attendees get to your booth location.
You don't need to be a physics major to see the benefits of 4-D thinking. If your exhibit looks the same during show hours as it does outside show hours, then you're not taking full advantage of the 4-dimensional nature of reality … and trade shows!
Partner Voices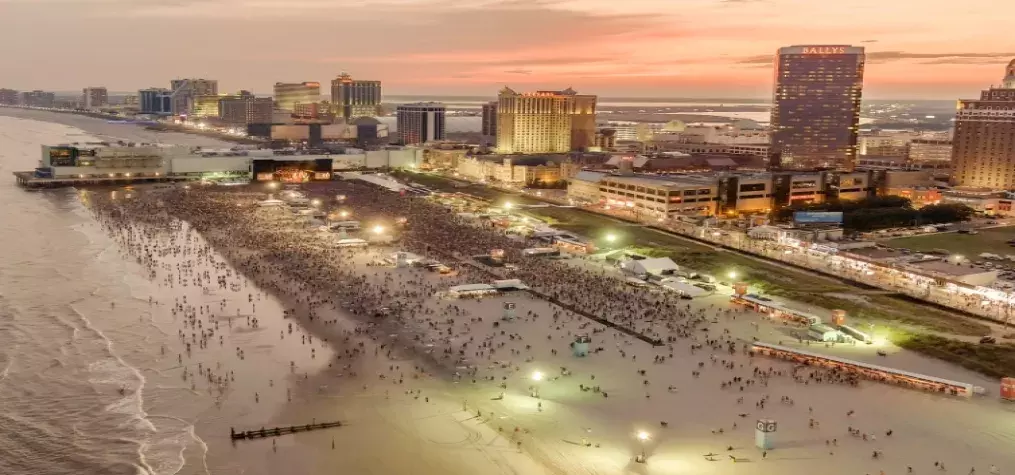 Caesars Entertainment strode into 2022 with its sights set on making the year one of innovation and renovation for the Empire as the company announced a $400 million, Las Vegas-style makeover for its Atlantic City properties. The master plan for the company's three East Coast properties -- Caesars, Harrah's, and Tropicana -- involves interior renovations, new celebrity dining concepts, and more to create the ultimate seaside conference destination.