Join #Expochat On Wednesdays at 1pm ET!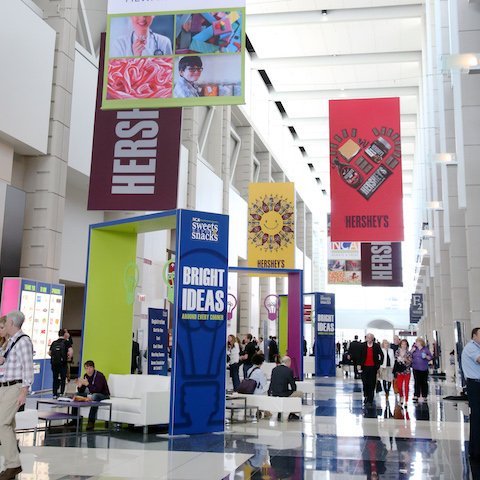 TSNN is a proud sponsor of #Expochat
#Expochat – What's On Tap at Expo! Expo! 2017?
Known as "the show for shows," IAEE's Expo! Expo! Annual Meeting & Exhibition is the premier event for exhibition and events industry professionals to learn about the latest industry trends and technology, as well as network with like-minded professionals.
This week, #Expochat moderator Terence Donnelly will be joined by IAEE to discuss what's new, what we should expect this year, and how to plan for the greatest annual event for the exhibits and events industry. Bring your questions, hopes and ideas to this #Expochat and we'll be there to answer! Prior to the chat, take a few minutes to visit the Expo! Expo! website to learn more about this year's show, taking place Nov. 28-30 in San Antonio, Texas.
Questions:
- What is IAEE Expo! Expo! (E! E!)?
- When and where is IAEE Expo! Expo!?
- Who usually attends Expo! Expo! and why should I attend?
- What's new and exciting at Expo! Expo! this year?
- Who is the big keynote at Expo! Expo!?
- Where can I go to register for Expo! Expo!?
- Is there an early bird deadline?
- How can I get more involved locally in IAEE?
When: Sept. 20, 1-2 p.m. ET
Where: Use hashtag #Expochat and any Twitter chat tool! (Tweetchat, for example)
NEW: Come to the chat with questions about anything trade show-related. We will use our community to address your issues or maybe even hook you up with some help.
What is #EXPOCHAT?
Expochat is a Twitter-based conversation on topics related to the trade show industry. It takes place most Wednesdays at 1:00 p.m. Eastern Time (new time slot) and tackles a single topic each week - a recurring pain point, innovative ideas, evolution of the industry, best practices, and what works. Expochat is alternately moderated by four industry thought leaders: Stephanie Selesnick (International Trade Information, Inc.), Terence Donnelly (Experient), Michelle Bruno (Bruno Group Signature Services) and Michael Doane (CadmiumCD).
Expochat has been reformatted from previous years. The discussion (new format) will last a very fast-paced 30 minutes, followed by 15 minutes during which participants may ask questions of the group on any topic. To participate, sign up on Twitter.com and follow the #Expochat hashtag at the appointed time. Questions will be identified as Q1, Q2, etc. Responses from participants should be written as A1, A2, etc. Tools like Tweetchat.io and others can make it easier to participate. Ideas are welcome on Expochat but commercialism is not.
Trade Show News Network, the leading online exhibition industry news resource, sponsors the chat, and topics are listed in advance on TSNN.com. Reminders will be tweeted out prior to each week's discussion, but if you miss a chat, Storify transcripts will be available on TSNN after each chat. We gladly accept requests for topics at expochat@tsnn.com. Guest moderators are also welcome. #Expochat, now in its fourth year, works because the community supports it. Join us for the best live conversations about the industry that signs your paycheck. Rants welcome!
Missed #Expochat? No Problem!
Check out our past chats:
Sept. 13 – Hosted Buyer Events – https://storify.com/stephselesnick/expochat-hosted-buyer-events-with-very-special-gue
Sept. 6 – Disaster Preparedness and Recovery –
https://storify.com/cadmiumcd/disaster-preparedness-and-recovery
April 26 – Tricks of Attendee Acquisition for Events – https://storify.com/TRDonnelly/the-tricks-of-attendee-acquisition-for-events
April 19 – Creating Education that Excites – https://storify.com/cadmiumcd/creating-education-that-excites
April 12 – Is Your Event Technology Secure? – https://storify.com/michellebruno/is-your-event-technology-secure
April 5 – Is the Old Conference/Educational Session Model Dead? – https://storify.com/stephselesnick/is-the-old-conference-educational-session-model-de
March 29 – How Attendee "Personas" Impact Trade Shows & Events – https://storify.com/TRDonnelly/how-attendee-personas-impact-trade-shows-events
March 22 - Trends In Exhibition Sponsorships – https://storify.com/TRDonnelly/trends-in-exhibition-sponsorships
March 8 - Taking Your Brand Overseas – https://storify.com/stephselesnick/expochat-extending-your-expo-brand-by-going-intl
March 1 - Trade Shows and the Gig Economy – https://storify.com/michellebruno/trade-shows-and-the-gig-economy
Feb. 22 - Bringing Up Baby: How to Prepare the Next Trade Show Industry Workforce – https://storify.com/michellebruno/bringing-up-baby
Feb. 15 - How "Green" is the Trade Show Industry, Really? – https://storify.com/TRDonnelly/how-green-is-the-trade-show-industry-really
Feb. 8 – Are You Leaning In? – https://storify.com/michellebruno/are-women-in-tradeshows-leaning-in
Jan. 31 – How Might Travel Ban, Changing Trade Pacts Impact Trade Shows? - https://storify.com/stephselesnick/expochat-feb-1-2017
Jan. 24 – How Are Shows 'Giving Back?' – https://storify.com/TRDonnelly/how-are-shows-giving-back
Jan. 18 – Using Hackathons to Re-Invent & Grow Your Trade Show – https://storify.com/TRDonnelly/using-hackathons-to-re-invent-grow-your-trade-show
Jan. 11 – CES Review - What can we learn from our shows? – https://storify.com/stephselesnick/expochat-jan-11-review-of-ces2017-what-expos-can-l
Jan. 4 – New Year's (Event Technology) Resolutions – https://storify.com/michellebruno/new-year-s-event-technology-resolutions
Nov. 30, 2016 – Is The Trade Show Industry Ready for Artificial Intelligence? – https://storify.com/michellebruno/s-the-trade-show-industry-ready-for-artificial-int
Nov. 9, 2016 – What Makes a Good Leader in Today's Environment? – https://storify.com/TRDonnelly/what-makes-a-good-leader-in-today-s-environment-58238130caffda621fab15e7
Nov. 2, 2016 – TSNN Awards: Education, Inspiration, Celebration – https://storify.com/theexpogroup/expochat-from-nov-2-2016
Oct. 26, 2016 – "Matchmaking: Can Technology Bring Exhibitors More/Better Matches and Leads?" - https://storify.com/michellebruno/matchmaking-can-technology-bring-exhibitors-more-b
Oct. 12, 2016 – All There Is to Know About IAEE's Expo! Expo! – https://storify.com/TRDonnelly/we-re-talking-iaee-hq-expo-expo-dec-6-8-in-anaheim#publicize
Oct. 5, 2016 – How Can You Build Community on the Showfloor? – https://storify.com/theexpogroup/community-spaces
Sept. 28, 2016 – How Can We Increase International Attendance at Our Shows? – https://storify.com/stephselesnick/expochat-international-attendee-acquisition#publicize
Sept. 21, 2016 – Does Gamification Work for B2B Trade Shows? – https://storify.com/michellebruno/does-gamification-work-for-b2b-trade-shows